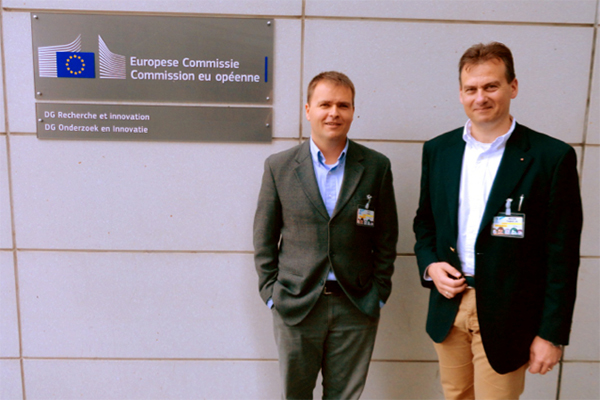 FP7: Global reach
UD policy scientist participates as expert for EU's Seventh Framework Program
8:49 a.m., Oct. 12, 2012--The European Commission's Research Executive Agency invited a University of Delaware researcher to weigh-in on significant academic funding decisions for a week in Brussels this October.
Tibor Tóth, associate policy scientist at the Center for Applied Demography and Survey Research, participated as an expert for the European Union's Seventh Framework Program (FP7). He joined 40 scholars from across the EU, and was the only expert invited from the United States to evaluate applications for the prestigious Marie Curie fellowships in the economic and social sciences.
Fulbright awards
Three University of Delaware students and an alumna have received word this spring that they will travel abroad as part of the newest class of Fulbright Student Program award winners.
Peace Corps plans
Two University of Delaware students, John McCarron and Bridgette Spritz, have been selected as Peace Corps volunteers and will serve in Ghana and Rwanda.
Launched in 2007, FP7 has a total budget of €55 billion for research and innovation. It has so far supported some 19,000 projects involving over 79,000 participants (universities, research organizations and businesses) across all EU member states, with a total EU investment so far of €25.3 billion.
Tóth evaluated proposals for Intra-European Fellowships (IEFs), an FP7-funded program intended for European researchers with doctoral degrees working in all areas of science and technology.
"IEF funding allows academics to re-enter the research field after having pursued a different career path," noted Tóth, "or to acquire new or complementary skills. Financial backing for 12-24 months makes this program both attractive and competitive."
Proposals are selected in an open competition. Selection is through transparent, independent peer review, based on a series of pre-determined criteria. With 150 proposals submitted this year for the particular panel, the evaluators had the daunting task of evaluating and scoring submissions for funding.
Prior to the meeting, each evaluator read and scored up to 20 proposals. While in Brussels, experts met in sub-groups for a total of 35 hours to discuss each proposal's strengths and weaknesses.
Tóth chaired five of these discussions, writing and submitting a report of the sub-group's recommendations. "Achieving consensus among a diverse group of academics from different countries was not as challenging as you might expect," Tóth said. "Given the clearly defined criteria, the best proposals stood out against the competition."
With the University's continued commitment to "going global," the Center for Applied Demography and Survey Research (CADSR) supported the initiative. "We are proud that Tibor was selected to participate in this international endeavor," noted CADSR Director Edward Ratledge. "With only one U.S. institution represented, it is an honor to have the University represented on this global stage."