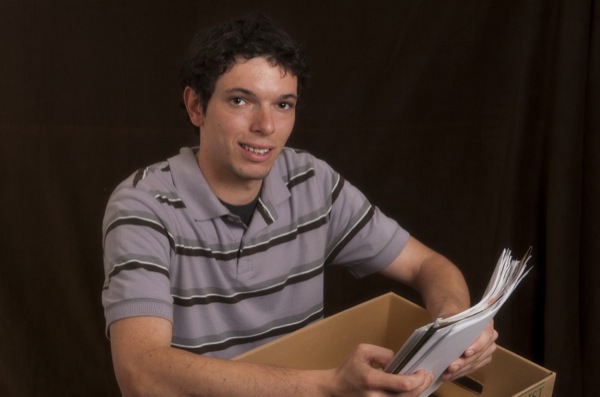 Visiting daddy
UD McNair Scholar proposes more visiting privileges for incarcerated fathers
8:09 a.m., Oct. 16, 2012--James Highberger, a senior criminal justice major at the University of Delaware, spent the summer interviewing released inmates and correctional officers in order to propose a theoretical plan to implement a more generous visitation system in Delaware's male prisons.
Highberger spent 10 weeks working as a McNair Scholar and emerged with a 20-page report highlighting the fact that inmates who maintain strong family contact throughout their incarceration are less likely to return to prison after they are released. 
Chronic wounds
UD's Millicent Sullivan and Kristi Kiick have received a $1.4 million grant from the National Institutes of Health for research that could provide a new approach to the treatment of chronic wounds.
Prof. Heck's legacy
The American Chemical Society is highlighting the legacy of the late Nobel laureate Richard Heck, the Willis F. Harrington Professor Emeritus of Chemistry at the University of Delaware with a digital tribute on its publications website.
The current system
Currently, the Delaware male prison system places strict regulations on visitations between fathers and children. Minors cannot have one-on-one contact with their fathers and have strict time restraints placed on visits. 
Highberger noted that family visits often occur in a big room with other inmates, visitors and guards present. 
"Inmates can be afraid to let anyone know anything too personal when they have very little privacy," he says. 
While looking into various prisons around the country, Highberger found that many have implemented family visiting programs that provide inmates with the ability to spend more time with their children, develop healthy relationships and take parenting classes. 
Highberger also found that programs that allow mothers to maintain contact with their children while incarcerated are more available than programs for fathers. The Delaware women's correctional institute, Baylor, uses a program called REACH to maintain relationships between incarcerated mothers and their children. 
The proposal
"The first thing I had to do was think about the security issues that would be involved in giving fathers more time with children," says Highberger. 
All former inmates interviewed by Highberger agreed that they would be willing to yield to strip searches both before and after family visits. 
Highberger's proposal was modeled after the REACH program in Baylor and the FACT program implemented in Kentucky's Blackburn correctional facility. 
The proposal suggests a program in which children can visit their fathers for two hours at a time in a special, private visiting area as often as twice a week. 
Inmates will only be eligible for the program after they have completed a six-week parenting class. Only certain inmates will qualify for the program; those convicted of sexual abuse, or domestic abuse will not be allowed to participate. 
Highberger proposes that the prison videotape each visiting session for two reasons -- to provide additional security and to allow the father to watch the session later with a parenting counselor. 
After several successful visits, Highberger suggests that inmates be granted overnight visits, allowing them to spend a whole day and night with their families. 
The program would require funding from the state as well as private sources. However, if the program were effective, it would save the state money overtime. 
"When you look at the reduction in the recidivism rate, it pays for itself," Higherberger says of the visiting program. 
On the horizon
Highberger says the research he did as a part of the McNair Scholars Program has prepared him for the future. 
"This was possibly one of my favorite summers. It gave me some faith in myself to get into graduate school and taught me some valuable skills, like giving an 'elevator pitch.'"
Highberger plans to attend graduate school to continue researching how the prison system affects families. 
The experience has also had a personal impact on Highberger.
"My whole life I thought I would go to law school. Now I think I would like to run a program for youth, like a Boys and Girls Club," he says. "I personally think that a breakdown of family leads to high crime rate. I think prevention is key."
Article by Kelley Bregenzer
Photo by Kathy F. Atkinson