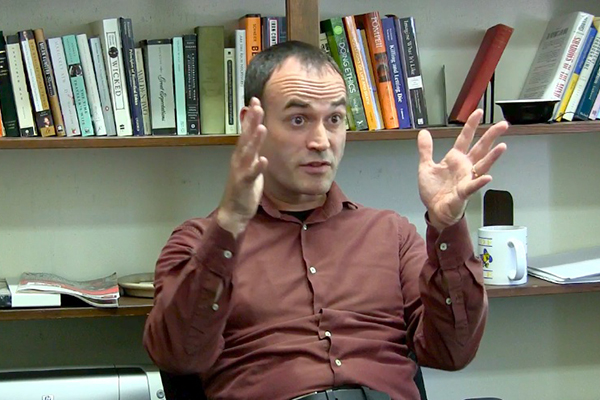 Technology in the Classroom
Professor shares experience with new online peer evaluation technology
(Editor's note: This article is part of a continuing series by University IT on innovative use of technology in campus classrooms.)
3:13 p.m., Oct. 10, 2012--The University of Delaware has developed an online tool that makes peer evaluation a more meaningful assessment process for students and an easier administrative task for faculty. Mark Greene, associate professor in the Department of Philosophy, used the Peer Evaluation Tool for two semesters and found it to be a useful resource. 
"I use it in a couple of different ways. In class, if I want to go to group discussions, I can literally press a couple of buttons and have the students organized into groups right there and then," Greene said. 
June 6: UDid It! Picnic
All UD faculty and staff members are invited to attend the annual UDid It! employee appreciation picnic, set from 11 a.m.-1:30 p.m., Monday, June 6, on The Green.
2FA protects you
If you are using two-factor authentication (2FA), even if a hacker has your password, your information is probably safe.
The tool is ideal for all class sizes and makes large classes more manageable. "It makes group work easier with a large class," he said. Simply upload a list of the students' UDelNet IDs and you can easily organize them into groups and send the students notification. 
When a new project is created and the roster is imported, Greene can easily set the parameters for group size and click one button to sort students into units. Greene can then drag and drop students' names from one group to another. 
The instructor can customize the rubric and questions to fit the type of group work. "When students log in to evaluate one another they will see my custom rubric and be asked to rate group members on particular aspects as well as provide narrative comments," Greene said. "An email will go out reminding students that it is time to complete their peer evaluations" at the end of a project.
Students do not see the individual evaluations, but rather a summary of their performance that Greene can edit before releasing. "I can see what students have said and can feed that back to the students in a summary form that does not identify the original commenter," he said. 
"It's a very easy way to organize groups and to give students at least some feedback on their performance in group projects," Greene said.
Grading is an optional function of the Peer Evaluation Tool. Students can be graded based on evaluations and instructor input then the grades can be exported in CSV format. This feature allows Greene to easily upload the grades to Sakai@UD's grade book. 
Becky Kinney from IT Academic Technology Services (IT-ATS) developed the tool and is currently improving the features based on the feedback from faculty. The user interface has been redesigned in the latest version to make the tool more intuitive. 
Greene expressed his satisfaction with the tool and plans to continue using it in the future. "I would recommend it to other faculty. It is a very flexible tool and well worth trying," he said.  For more information and video tutorials, visit the Peer Evaluation Tool website.
Article by Sarah E. Meadows