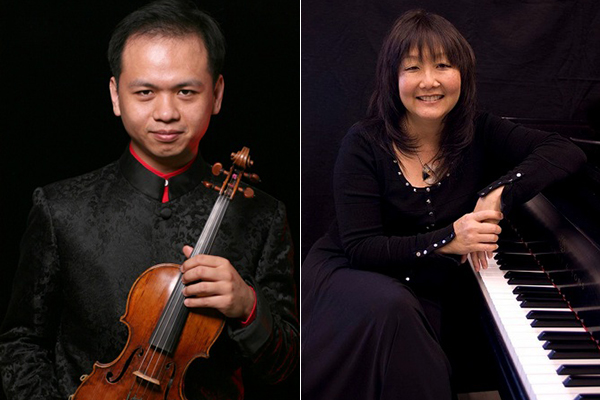 MPCS event sold out
With '3Bs' concert sold out, music lovers invited to take 'Backstage Tour'
2:17 p.m., Oct. 15, 2012--The Oct. 20 University of Delaware Master Players Concert Series "3Bs" concert, which honors the selection of Xiang Gao — series director, Trustees Distinguished Professor of Music and internationally renowned violinist — as the 2012 Delaware Division of the Arts Individual Masters Fellowship award winner, is sold out.
The concert, being held in the Gore Recital Hall of the Roselle Center for the Arts, will feature the music of Bach, Beethoven and Brahms.
From graduates, faculty
As it neared time for the processional to open the University of Delaware Commencement ceremonies, graduating students and faculty members shared their feelings about what the event means to them.
Doctoral hooding
It was a day of triumph, cheers and collective relief as more than 160 students from 21 nations participated in the University of Delaware's Doctoral Hooding Convocation held Friday morning on The Green.
 "This is like a 'wine tasting' event for the stage that will create a lasting memory, as we will be featuring some of today's leading violin makers' fine violins from the Boorse Collection of Contemporary Violins," Gao said. "During this recital, the audience will be able to aurally sample many fine violins with completely different tone colors, personalities, volumes, and appearances."
Christopher Boorse, professor in UD's Department of Philosophy, has been teaching at UD since the 1970s and Gao said "his recent purchase of 13 fine violins made him one of the most important collectors of contemporary violins in the country.  In recent years, he has been generously lending these fine violins to students who have come from many parts of the world to study with me at UD. I am so looking forward to providing this opportunity for Prof. Boorse's violins to shine on the stage as a token of appreciation to him."
The concert, which is being held during UD's Homecoming Weekend, will feature Gao and UD faculty pianist Julie Nishimura. The two artists will collaborate on some of the most celebrated compositions ever written for the violin and piano by Bach, Beethoven and Brahms. These works include Brahms' Violin Sonata No. 3 in D Minor, Beethoven's Violin Sonata No. 7 in C Minor, and a surprise performance of a major work by Bach, according to Gao.
In case you do not have a ticket
As there will be no printed programs for the concert as the series has been reducing the use of paper at public events to protect the planet, those who do not have concert tickets but who are interested in learning more about the event can view a virtual "Backstage Tour" featuring an interview with Gao on his personal views of the three music giants, and other interesting elements of the concert.
"I invite you to join me during the MPCS 'Backstage Tour' to learn more about the concerts, and to see a HD video recording of the 3Bs concert, available on the website on Oct. 25," Gao said.
Also, in light of the sellout, Gao encourages music lovers to book their tickets soon for future Master Players Concert Series events.
"If you can get MPCS tickets soon enough, you will have the rare opportunity to witness two generations of violin music making: My own teacher, Prof. Paul Kantor, the Sallie Shepherd Perkins Professor of Music at the Shepherd School of Music of Rice University, will be featured on the next MPCS concert, in the Gore Recital Hall on Nov. 16, at 8 p.m. Mr. Kantor, one of the world's most successful violin pedagogues and concert violinists, will make music with his family of professional musicians to take your breath away."
Upcoming events
Friday, Nov. 16, Kantrio, Great Musical Families Recital Series, 8 p.m., Gore Recital Hall, Roselle Center for the Arts. MPCS launches another innovative chamber concert, this time celebrating the first families of music in the Great Musical Families Recital Series. Many master musicians come from large musical families, and when they make music together on stage, that family connection inspires the magic of music come to life in a truly unforgettable way. 
This event will feature one of today's most visible musical families as Paul and Timothy Kantor and Virginia Weckstrom perform masterpieces for the violin, viola and piano by Mozart, Bartok and Shostakovich, among others. Paul Kantor, violin teacher and mentor to Gao, makes his second MPCS appearance.
In conjunction with the concert, three free master classes will be offered from 1:25-2:30 p.m., Friday, Nov. 16. Timothy Kantor will lead a violin master class in the Loudis Recital Hall of the Amy E. du Pont Music Building, Paul Kantor a violin and viola master class in Gore Recital Hall and Weckstrom a piano and chamber music master class in Puglisi Orchestra Hall of the Roselle Center for the Arts.
Saturday, Dec. 8, Holiday Pops – A Family Concert, 3 p.m., Mitchell Hall. The third annual MPCS Holiday Concert, an afternoon event designed especially for families, guarantees to be an unforgettable musical experience, not to mention a wonderful addition to 2012 holiday festivities.
The pops concert features the UD Chamber Orchestra and many interactive performances, including Toy Symphony by Leopold Mozart; Spectacular Clarinets, Strings' Attack!, Three Shanties and Dr. Smith's Horns for the young audiences; and a medley of familiar holiday classics.
Following the concert, MPCS will hold an "instrument petting zoo" in Gore Hall, next to Mitchell Hall on The Green, from 4:30-5:30 p.m.
Ticket information
The state-of-the-art Gore Recital Hall only seats 200 and those interested in attending are encouraged to purchase their tickets in advance. MPCS tickets cost $25 for the general public; $20 for senior citizens, UD faculty, staff and alumni; and $10 for students with ID. Tickets are available at the REP box office in the Roselle Center for the Arts, telephone 302-831-2204.
For more information about MPCS, see the new website.