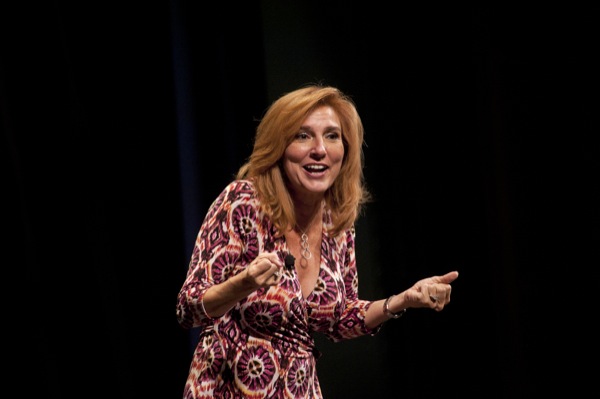 'Courting Diversity'
People's Court Judge Milian discusses her career and culture with UD audience
4:07 p.m., Oct. 2, 2012--Judge Marilyn Milian from the People's Court visited the University of Delaware on Monday, Oct. 1, as part of the Latino Heritage Month Extravaganza. 
Milian delivered a speech that evening in Mitchell Hall discussing how she became TV's first Latino judge and the importance of overcoming limitations. 
'Resilience Engineering'
The University of Delaware's Nii Attoh-Okine recently published a new book with Cambridge University Press, "Resilience Engineering: Models and Analysis."
Reviresco June run
UD ROTC cadets will run from New York City to Miami this month to raise awareness about veterans' affairs.
"People always ask me how I got this job," said Milian. "It was a mixture of luck, timing and reckless abandon." 
Milian explained how she had been working as a judge for Miami's Circuit Court in the early 2000s when she got a call from Harvey Levin, the producer of celebrity gossip website TMZ who also worked on the People's Court. 
Levin explained to Milian that the 2000 census showed an increase in the Latino population and they wanted a judge on the People's Court to reflect the growing demographic. 
When Milian, who is of Cuban heritage, flew to New York to audition, the head of Warner Brothers told her that she was "not Latino enough." She was not deterred and went in for a second audition, and got the job. 
"Don't ever let anybody put a ceiling on you or paralyze you with fear," said Milian. 
Milian told the audience that regardless of race, gender or beliefs, everyone experiences limitations placed on them by others. 
Initially, Milian was nervous "to do something that many judges and many lawyers look down on with disdain." However, Milian disregarded her fears and decided to star in the People's Court because it was the perfect fit for her. 
"Make decisions that allow you to spend life how you want to," Milian urged the audience. 
After years as the outspoken judge on the People's Court, Milian said she is extremely happy with the risk she took. She gets to educate people all over the nation about law and share Latino culture at the same time. 
Milian doesn't plan on stopping anytime soon.
"When they pry my cold white knuckles off the gavel is when I'll stop doing this."
After her speech, Milian took questions from the audience where she explained that every single case on the show is real and the show has 50 employees who sift through court cases around the country to find the most compelling stories. 
Milian also took some time before her speech to meet with a panel of students interested in law. 
Her visit to UD seemed to leave a good impression on Milian.
"Everyone here is exceedingly nice and everything is exceedingly clean," she said. 
The talk was sponsored by the Center for Black Culture, Student Life, Residence Life, the Office of Equity and Inclusion, the Department of Political Science and International Relations, Campus Alliance de La Raza, HOLA, the Multicultural Greek Congress and SPIT.
Article by Kelley Bregenzer
Photo by Duane Perry