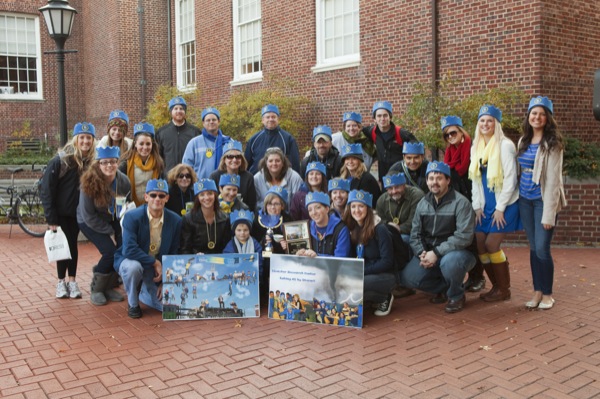 Homecoming 2012
University to celebrate Homecoming 2012 with pep rally, contests
9:10 a.m., Oct. 11, 2012--The University of Delaware will celebrate Homecoming 2012 from Oct. 15-21, kicking off with a pep rally Monday evening, Oct. 15, and continuing through the football game against the University of Rhode Island on Saturday, Oct. 20.
Members of the campus community are encouraged to show their Blue Hen pride and spirit by taking advantage of a week's worth of events, activities and celebrations. Students, alumni, staff, faculty, parents and members of the community are welcome.
From graduates, faculty
As it neared time for the processional to open the University of Delaware Commencement ceremonies, graduating students and faculty members shared their feelings about what the event means to them.
Doctoral hooding
It was a day of triumph, cheers and collective relief as more than 160 students from 21 nations participated in the University of Delaware's Doctoral Hooding Convocation held Friday morning on The Green.
For all Homecoming news and information, visit the UD Homecoming 2012 website.
Homecoming activities include the following:
Spirit photo contest
Through Homecoming Week, members of the campus community can vote for their favorite photo in the Dare to Show More Spirit Photo Contest. Voters will decide which department, college or unit had the best photo. Voting begins on Monday, Oct. 15, and closes at noon, Friday, Oct. 19. Vote online on the Homecoming website and by "liking" your favorite photo on the UD Alumni Relations Facebook page.
Homecoming Giveaways, prizes
Students who show their Blue Hen pride throughout Homecoming could win a prize at one of the UD Spirit Stations. Sponsored by the Homecoming Student Committee, the Spirit Stations will be giving out a different prize each day to only the first 500 students wearing UD gear. In order to win the daily prize, Blue Hens must be wearing UD gear and either check into the Spirit Stations via Foursquare or select that they are "going" to the UD Homecoming 2012 event on Facebook. Each day there will be three locations for each spirit station and a new prize every day.  Click here to see the Spirit Station schedule.
Monday Madness Pep Rally
The inaugural Monday Madness Pep Rally will be held at 7 p.m., Monday, Oct. 15, at the Independence turf field. Those who attend can enjoy snacks, games and more, and are encouraged to wear Delaware Blue and Gold and be part of a human interlocking UD. Plans are to break the record for the number students who get involved each year and organizers hope the first will start off "with a bang." The pep rally is free and open to the public.
Homecoming King and Queen
The Homecoming Court has been chosen, and the six women and six men of the Class of 2013 have been campaigning hard across campus. Votes for the 2012 Homecoming King and Queen can be cast beginning Friday, Oct. 19. Voting is open for one day only from midnight to midnight on Oct. 19. Visit the Homecoming website to see the candidates, and on Oct. 19 for the link to vote.
Spirit Celebration
A Spirit Celebration will be held at 3 p.m., Friday, Oct. 19, on The Green near Memorial Hall. Those who attend will be able to enjoy UDairy Creamery ice cream, brownies and drinks and to cheer on the Homecoming banner and photo contest competitors. Winners of both contests will be announced at the Spirit Celebration. Click here for more information.
Blue Hens on Main
The third annual Blue Hens on Main event will be held at 8 p.m., Friday, Oct. 19, at the Trabant University Center. The event provides alumni an opportunity to catch up with friends and enjoy an evening with favorite foods, exceptional drinks and a late-night breakfast.
Homecoming Game
The Homecoming game pitting the Blue Hens against Rhode Island will feature a ticket special of $30 for alumni while supplies last. The $30 package includes one game ticket, one special commemorative 2012 Homecoming mug and one free drink ticket to the Coors Light Coop during pregame on game day. Also, alumni are encouraged to take a "mug" shot of themselves and their fellow alumni in the Coors Light Coop to post on Twitter. One lucky alumnus will be selected to win a prize. To purchase this package, visit the UD Athletics online ticket store and use promo code HCMUG.
Alumni honors
While Homecoming will be a great week for students, faculty and staff, it also will be a special time for the more than 157,000 alumni around the world as they are all invited back to their alma mater. In particular, specific alumni will be honored for their accomplishments and service. On Friday, six Blue Hens will receive the Presidential Citation for Outstanding Achievement. This award honors UD graduates of the last 20 years who exhibit great promise in their professional careers and/or public service activities.

On Saturday, two groups of alumni will be recognized at a luncheon in the Hospitality Village. First, the winners of the Outstanding Alumni Award will be honored for their exemplary work on behalf of the University. Also recognized at the luncheon will be alumni who serve on the boards of the UD Alumni Association, the regional alumni clubs and the reunion class committees.
Those with questions about Homecoming can contact the Office of Alumni Relations at alumnet@udel.edu.
Article by Melissa Cox
Photo by Ambre Alexander