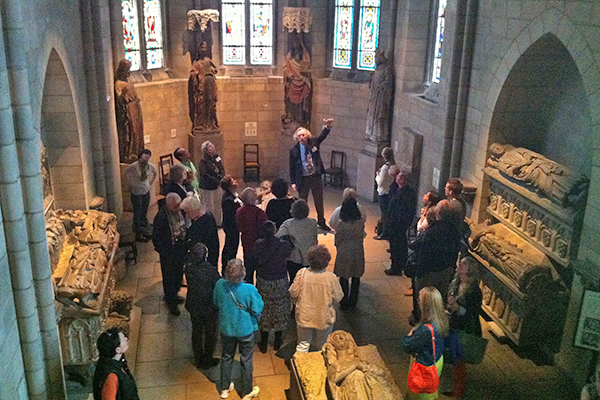 For the Record, Oct. 5, 2012
Faculty and staff report recent awards, conferences, presentations
8:38 a.m., Oct. 5, 2012--For the Record provides information about recent professional activities of University of Delaware faculty, staff, students and alumni.
Recent awards, conferences, events and presentations include the following:
From graduates, faculty
As it neared time for the processional to open the University of Delaware Commencement ceremonies, graduating students and faculty members shared their feelings about what the event means to them.
Doctoral hooding
It was a day of triumph, cheers and collective relief as more than 160 students from 21 nations participated in the University of Delaware's Doctoral Hooding Convocation held Friday morning on The Green.
Awards
Jennifer Turowski and Jean Thomae, students in the Department of Hotel, Restaurant and Institutional Management, have been named recipients of the 2013 Joe Perdue Scholarship by the Club Foundation of the Club Managers Association of America (CMAA). Other recipients were from Michigan State University, the University of Massachusetts, the University of Houston and Fairleigh Dickinson University. The scholarships provide Turowski and Thomae with tuition support from the CMAA, which aims to promote and advance friendly relations among persons connected with the management of clubs and other associations of similar character; to encourage the education and advancement of members; and to assist club officers and members, through their managers, to secure the utmost in efficient and successful operations.
Cory Nourie, a UD alumna and member of he Center for Disabilities Studies' Community Advisory Council (CAC), has received the Leonard L. Berry Award. The Berry Award is the highest honor available to a non-physician from Nemours. Nourie works as a patient transition social work coordinator in the Division of Transition of Care at Nemours/Alfred I. duPont Hospital for Children. She was nominated by her peers at the hospital as one of 10 finalists in the Delaware Valley and was then chosen as one of the two winners of the Berry Award. Berry Award recipients are recognized for their outstanding effort and achievements in delivering compassionate care to children and families. Nourie received a bachelor's degree in sociology with a concentration in social welfare and a minor in disabilities studies with honors from UD in 2002. She is a former staff member of the Center for Disabilities Studies and continues her involvement in CDS as first vice chairperson of CAC, a council that advises the CDS director and provides guidance and feedback in the development and implementation of the center's five-year plan. The majority of CAC members must be individuals with developmental and related disabilities and other family members.
Conferences
Alice Ba, director of Asian Studies and associate professor of political science and international relations, participated in "Power Transitions, Domestic Politics, and Foreign Policy in Southeast Asia," a conference of the Southeast Asia in World Affairs seminar, at the Weatherhead East Asian Institute at Columbia University, New York, Sept. 27.
Events
Ninety alumni and community members participated in a luncheon and private tour of the Cloisters in New York City on Saturday, Sept. 29. The event, organized by the Friends of Art History, was the second time in recent weeks that the alumni group has worked with notable museums to increase alumni engagement.
Presentations
Alice Ba, director of Asian Studies and associate professor of political science and international relations, presented at the United States, ASEAN and East Asia Summit Strategic Dialogue Symposium, "Working Toward the ASEAN Community in 2015: The United States, ASEAN and EAS Perspectives," sponsored by the U.S. Department of State, the ASEAN Studies Center at American University and the Asia Foundation, at the ASEAN Studies Center at American University, Washington, D.C., Sept. 26.
To submit information to be included in For the Record, write to ud-ocm@udel.edu.