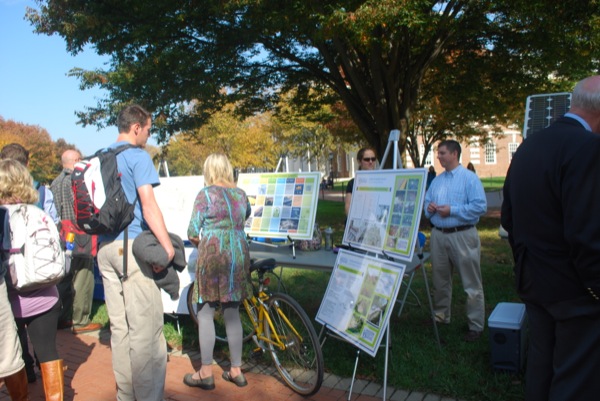 FAS sustainability showcase
Facilities and Auxiliary Services presents efforts during Sustainability Day
4:17 p.m., Oct. 25, 2012--The University of Delaware Facilities and Auxiliary Services organization showed off its sustainable side at the "Green Expo on the Green" as part of Campus Sustainability Day on Wednesday, Oct 24.
Between noon and 2 p.m., members of the campus community were treated to displays on The Green that highlighted the various sustainability initiatives from Facilities and Auxiliary Services departments, including:
June 6: UDid It! Picnic
All UD faculty and staff members are invited to attend the annual UDid It! employee appreciation picnic, set from 11 a.m.-1:30 p.m., Monday, June 6, on The Green.
2FA protects you
If you are using two-factor authentication (2FA), even if a hacker has your password, your information is probably safe.
Building Maintenance and Operations, which displayed the BlueHenergy website and carpet recycling efforts;
Facilities Planning and Construction's displays on lighting upgrades, furniture and case reuse, and the green roof of the Interdisciplinary Science and Engineering Laboratory;
Custodial and University Services' sustainable procedures and environmentally friendly equipment; 
Financial Services' lighting energy efficiency project and new revolving loan efficiency fund; and
Dining Services' display, which educated students about the University's composting and waste oil recycling efforts. 
Building Maintenance and Operations assistant director Anne-Marie Crossan said that Campus Sustainability Day presented Facilities and Auxiliary Services with a unique opportunity to spread awareness of their efforts. "We're trying to reduce energy usage. We're trying to get people to recycle. We're using green products … a lot of the actions people don't see, so we're trying to make the invisible visible," she said. 
In addition to a presence at the Green Expo, Facilities and Auxiliary Services also helped kick-off Campus Sustainability Day Wednesday morning, when University architect Peter Krawchyk presented the breakfast keynote address, discussing green initiatives in new buildings and infrastructure around campus.