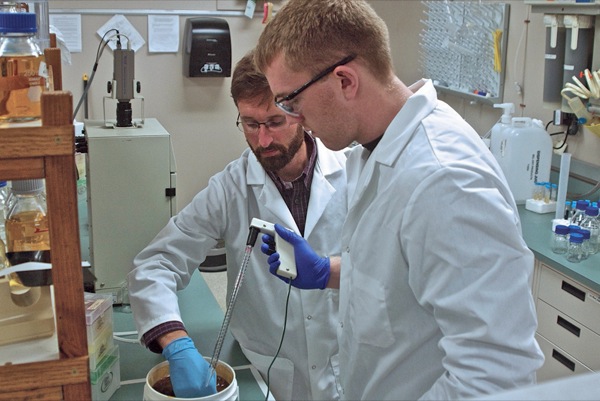 UD Interns: Creating catalysts
Elcriton internship gives student a taste of the real research world
(Editor's note: UD Interns is an occasional series that looks at enriching internship opportunities enjoyed by University of Delaware students, and provided by UD to students from other institutions.)
10:15 a.m., Oct. 22, 2012--Andrew Bitner has always loved fixing computers and other electronics around the house. When he began thinking about choosing a college major, he decided to combine his love of tinkering with another one of his passions — science. 
"I am very hands on and have always been good at chemistry, so I thought chemical engineering was a perfect fit for me," Bitner said.
'Resilience Engineering'
The University of Delaware's Nii Attoh-Okine recently published a new book with Cambridge University Press, "Resilience Engineering: Models and Analysis."
Reviresco June run
UD ROTC cadets will run from New York City to Miami this month to raise awareness about veterans' affairs.
Now a senior chemical engineering major, he enjoys system modeling which involves designing processes to create chemicals.
Last summer Bitner had the opportunity to work for Elcriton Inc., a company devoted to creating biochemical catalysts and other technologies to convert nonrenewable biomass into biofuels. It is work that shows potential to reduce greenhouse gases and emissions and to accelerate the expansion of clean-tech industries.
Founded by Eleftherios Papoutsakis, Eugene du Pont Chair of Chemical Engineering at UD, Elcriton is particularly focused on generating DNA for work in different strains of Clostridium that can be used to produce butanol fuel, a direct substitute for gasoline.
During his internship, Bitner worked under the supervision of Bryan Tracy, Elcriton CEO and lead scientist, to create DNA mutations, develop procedures for creating media and testing, and even build an apparatus for future laboratory work. He learned many new techniques and procedures, including how to transform and prepared DNA samples, and gained valuable mentoring that is often not available in larger organizations with a hierarchical management structure.
"It was a rewarding experience," said Bitner of the internship.
Bitner's internship was funded in part through the T.W. Fraser Undergraduate Enrichment Fund, which commemorates the career of T.W. Fraser Russell, Allan P. Colburn Professor of Chemical Engineering. 
"We hope to provide more real-world experiences like this in the future as a means to help students become workforce ready when they graduate," explained Russell.
Article by Megan Marschall