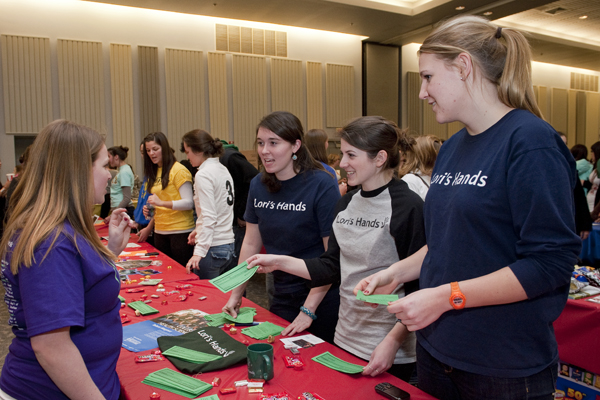 Chronic Illness in America: From Policy to Person
New course uses experiential service learning to enrich understanding of patient experience
12:08 p.m., Oct. 24, 2012--When nursing student Sarah LaFave started a new registered student organization called Lori's Hands on the University of Delaware campus in 2009, she had no idea that it would reach into the classroom as well as out to the community.
Lessons learned from Lori's Hands student volunteers and their clients have been incorporated into a new transdisciplinary course open to students throughout the University, HLTH 267: Chronic Illness in America: From Policy to Person, that builds on UD's well-developed Service Learning Program.
From graduates, faculty
As it neared time for the processional to open the University of Delaware Commencement ceremonies, graduating students and faculty members shared their feelings about what the event means to them.
Doctoral hooding
It was a day of triumph, cheers and collective relief as more than 160 students from 21 nations participated in the University of Delaware's Doctoral Hooding Convocation held Friday morning on The Green.
"The course is an opportunity for students to connect with chronically ill individuals in the community and an opportunity for both sides to benefit from the experience," says course instructor Cynthia Diefenbeck, assistant professor in the UD School of Nursing. "The students will connect these deeply meaningful human encounters to the course content, which includes a sweeping overview of individual, family, community, and national policy-level issues."
Diefenbeck says that students from a wide range of majors — not just those interested in health care careers — can benefit from the hands-on experience this course will provide.
"For example, biology or chemistry majors interested in research careers would have a unique opportunity to discover how basic research on diseases or treatments impacts the people ultimately affected by them," she says. "Students studying political science, economics, culture, literature, engineering and more would benefit from developing a better understanding of the challenges faced by many of our citizens. At the same time, the unique perspectives offered by students from all disciplines will greatly enhance the dialogue surrounding these complex social and political issues."
Students will spend two hours a week in the classroom and participate in weekly client visits via the Lori's Hands volunteer organization. They will apply what they learn in the classroom to their interactions with clients, and in turn client feedback will be integrated back into what is taught in the course.
"Lori's Hands started as a feel-good way to fill an unmet need in our community," says LaFave, who graduated in 2011 and now serves as care manager and volunteer coordinator at the Brandywine Village Network.
"But as volunteers started working with clients, we saw that it was much more than that. Lori's Hands is also an incredible learning experience for students. Working with clients, we see firsthand the impact of a disease process, a policy decision, or a family's culture on a patient's daily life. I think that the real-life knowledge our volunteers gain and the skills they develop prepare them to be compassionate and competent professionals in a way that no textbook or classroom lecture ever could."
About the course
The course provides a 360-degree perspective on the situations of aging and chronically ill individuals in America. It uses experiential service learning to allow for an in-depth understanding of the patient experience. The course readings integrate information that ranges across United States health care history, to chronic illnesses like COPD and MS, to the role of caregivers, to resource navigation, to health care systems across the globe. 
Credit hours: 3
Enrollment:  Open to all majors
Prerequisites:  ENGL 110 (can be taken concurrently)
Class: 114 McDowell Hall, Tuesdays, 3:30–5:30 p.m.
Faculty: Cynthia Diefenbeck, cynthia@udel.edu, 302-831-3086, 369 McDowell Hall
Required text and materials: Readings and other supplemental lecture materials as assigned (available on Sakai). Transportation to and from client visits. 
Article by Diane Kukich
Photo by Evan Krape