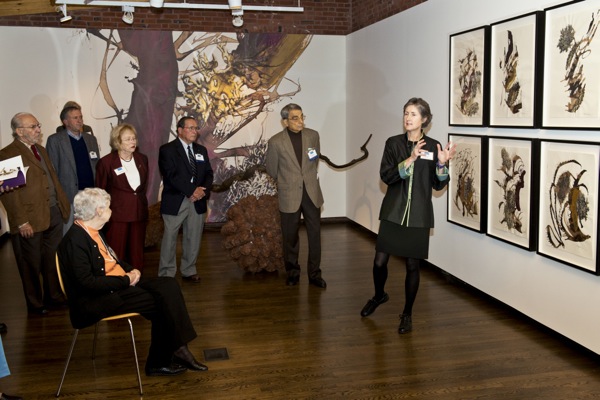 Art appreciation
UD Carillon Circle members treated to Mechanical Hall Gallery exhibit
12:42 p.m., Oct. 15, 2012--A group of University of Delaware supporters was recently treated to an insider's view of the art exhibit Martha Jackson Jarvis: Ancestors' Bones, on display now through Dec. 9 in the Mechanical Hall Gallery of the University Museums.
Julie McGee, curator of African American art, led members of the University's Carillon Circle on an insightful tour of Jackson Jarvis' stirring artwork, which was inspired by historical photos the artist uncovered 40 years ago in a thrift store photo album.
'Resilience Engineering'
The University of Delaware's Nii Attoh-Okine recently published a new book with Cambridge University Press, "Resilience Engineering: Models and Analysis."
Reviresco June run
UD ROTC cadets will run from New York City to Miami this month to raise awareness about veterans' affairs.
The exhibit, with its themes of ancestry and human legacy, resonated with the members of the Carillon Circle, who are leaving their own legacy for future generations of Blue Hens. Each member of the Carillon Circle has made a commitment to benefit the University in their will or other estate plan. 
"I really enjoyed the exhibit," said Mary Richards, retired UD professor, former dean of the College of Arts and Sciences and Carillon Circle member.  "I didn't know much about Martha Jackson Jarvis' prior work, and tonight's presentation helped to explain her methods and artistic vision."
Following the tour of the Jackson Jarvis exhibit, the guests joined UD President Patrick Harker and Janis Tomlinson, director of University Museums, for a reception in the Old College Gallery. Once there, guests enjoyed food and wine amid the beauty of the University's permanent art collection.
The event allowed the University to honor the generosity of its dedicated Carillon Circle members.  For information on how to become a member of the Carillon Circle, contact Martha Mitchell in the Office of Gift Planning at martham@udel.edu or 302-831-8633.
Article by Shannon Pote
Photo by Lane McLaughlin