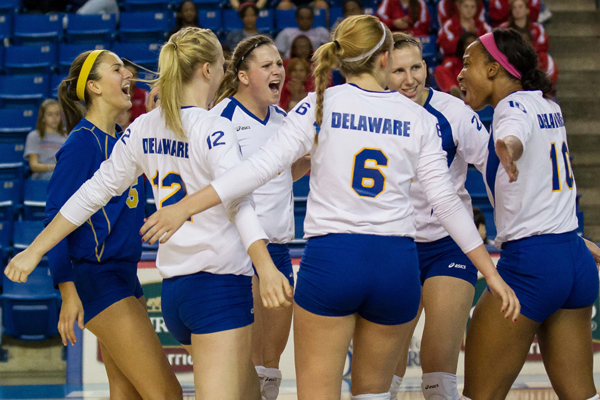 'Match for a Match'
Delaware volleyball team sets 'Match for a Match' bone marrow drive Nov. 10
10:01 a.m., Oct. 5, 2012--The University of Delaware volleyball team will be holding a "Match for a Match" bone marrow drive from 5:30-7 p.m., Saturday, Nov. 10, prior to its match against the University of North Carolina Wilmington at the Bob Carpenter Center.
The Blue Hens have teamed up with the Be The Match Foundation to coordinate the bone marrow drive. During the drive, anyone between the ages of 18-44 is eligible to receive a cheek swab and to be placed on the National Bone Marrow Registry.
Rower honored
University of Delaware junior Claire Brown has been named second team Collegiate Rowing Coaches Association All-Region.
Unsung Hero
The One Love Foundation has announced that University of Delaware men's lacrosse standout Elijah Conte has been selected as a winner of the 2016 YRL Unsung Hero Award.
For thousands of people with life threatening diseases such as lymphoma and leukemia, bone marrow transplants from an unrelated donor are their only hope for a cure. These patients depend on the Be The Match Registry to find them a match – and a second chance at life. While many people do find the match that they need, more donors are needed to help increase the likelihood patients will find a match.
To join the registry people must be between 18-44, meet certain health criteria and be willing to donate to any patient in need. Donors with diverse racial or ethnic backgrounds are especially critical, as patients in need of a transplant are most likely to match someone who shares their same race or ethnicity.
Testing and registration is simple and will take approximately 20 minutes per person.
There is no cost to be added to the registry. However, it costs Be The Match approximately $100 per person and the organization relies on financial gifts to help cover these costs. Contributions to the Be The Match Foundation help add more members to the National Bone Marrow Registry, giving more patients hope for a cure.
For more information on UD's Match for a Match and to find out how to make monetary donations, see this website.
Those who have questions regarding the bone marrow drive or how to donate can contact Lauren Baker at lbaker@udel.edu or 302-831-6313.