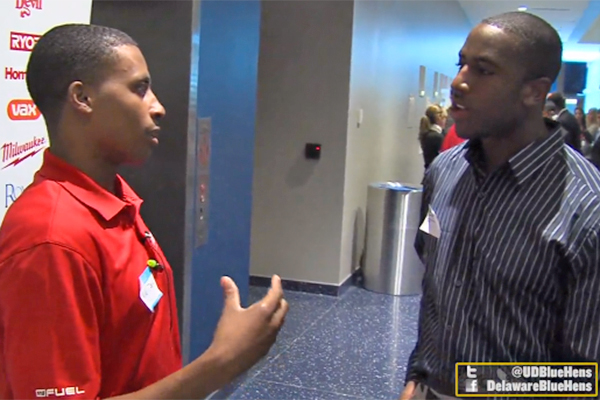 Athlete networking
UD Career Services for Athletes holds fall Networking Night
12:05 p.m., Oct. 23, 2012--Athletes across all 21 University of Delaware varsity sports gathered at the Bob Carpenter Center for the inaugural Fall Athlete Networking Night sponsored by Career Services for Athletes earlier this month.
More than 150 athletes participated in the event, which was strategically held on Monday of the football team's bye week and an "off day" for most teams.
From graduates, faculty
As it neared time for the processional to open the University of Delaware Commencement ceremonies, graduating students and faculty members shared their feelings about what the event means to them.
Doctoral hooding
It was a day of triumph, cheers and collective relief as more than 160 students from 21 nations participated in the University of Delaware's Doctoral Hooding Convocation held Friday morning on The Green.
Over 30 employer organizations with more than 50 employer representatives attended the event to speak with, learn about and recruit UD athletes for internships and full-time opportunities. Many employer recruiters present were UD alumni former Blue Hens athletes.
For a video about Athlete Networking Night, click here.
Kyle Davis, a 2011 graduate with a degree in criminal justice, returned to campus to recruit other athletes for TTI (Techtronic Industries) and spoke highly of the event and the services offered by the University.
"This Networking Night is a great opportunity for athletes to take advantage of the services provided by Career Services for Athletes," Davis said. "As a former athlete at UD, and professional baseball player, it can be difficult to think about life after sport. It was not until I returned to UD to complete my degree that I began taking advantage of services offered by Christine Motta and Career Services for Athletes. Through their dedication and commitment to me, I was able to obtain a position with a company that fit my personality and needs perfectly, after my athletic career."
Davis added, "Coming back as an employer rep to share my story with other UD athletes is one way I can give back and add talent to our organization."
Head football coach K.C. Keeler spoke of his journey and his own career path into the coaching profession. "We all know that it's about who you know. The University of Delaware does an amazing job of preparing you with what you know," Keeler said as he addressed the athletes from the podium, "and it's you taking advantage of opportunities like these that will help you make new connections, allow you to learn more about potential career paths and what it takes to pursue your career goals."
The event was orchestrated by Christine Motta, a 2000 and 2006 alumna and former UD women's basketball captain and assistant coach who now runs Career Services for Athletes program. 
Motta credited the planning, preparation and shared vision of Matthew Brink, director of Career Services, Tim Morrissey, director of Student Services for Athletes, and Michael Gilbert, vice president of student life, for making the event possible.
"It is because of these three people that I have had the privilege to return to my alma mater in this capacity and serve our athletes to prepare them for life after sport," said Motta. "Athletes have unique needs and many barriers in attending campuswide events due to practice, meetings, classes and games. It is due to the strategic planning and offering of specific services like these that our athletes, too, can invest in themselves, market their transferable skills and plan for life after college while they are still in college." 
Alicia DeFillipo, marketing manager for the Philadelphia Flyers and a 2007 hotel, restaurant and institutional management alumna, said she was excited to be a part of the event.
"It was such an honor to be invited back to campus to speak with the student athletes about career opportunities with Comcast-Spectator and the Philadelphia Flyers," she said. "By attending this event, athletes are already taking the right steps to learn about future opportunities and the success stories of alumni. I have personally had great experiences with hiring University of Delaware students and student-athletes as interns during my time with the Flyers. These students have a desire to learn and a passion for sports marketing. I am looking forward to working with more Delaware student-athletes in the future."
"We understand the commitment that all of the athletes at UD put in to representing the University. Participating at athletic events, preparation at practice, and the time needed to keep up with their studies definitely makes it difficult for athletes to attend functions such as these to gain exposure to future employers," said Christine Cole Jenkins, a 2003 sociology alumna and Blue Hens women's basketball player who attended the event as a representative of Sheraton Wilmington South Hotel. "This truly shows that the University is fully invested in the success of their student-athletes, not only while they are enrolled, but also beyond graduation. Christine Motta and her team at Career Services for Athletes are running a great program that I wish was around when I attended the University."
Video courtesy of Jimmy Smith, director, Athletics Multimedia