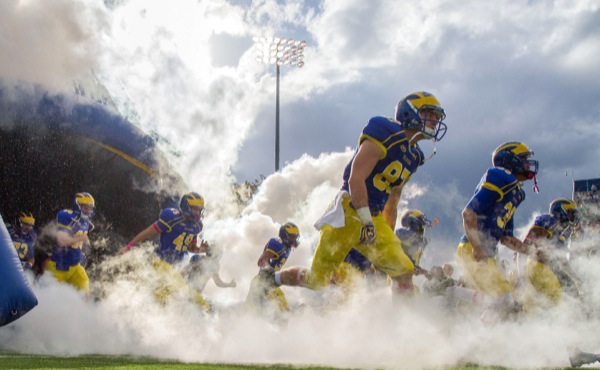 Alumni activities
Blue Hens football watch parties highlight alumni events
8:23 a.m., Oct. 26, 2012--University of Delaware alumni are planning a number of football watch parties on Saturday, Nov. 3, as the host Blue Hens tackle Towson University in a Colonial Athletic Association game at Delaware Stadium.
Kickoff for the UD Athletics Hall of Fame Day clash is noon, with the game to be broadcast by NBC Sports Network.
'Resilience Engineering'
The University of Delaware's Nii Attoh-Okine recently published a new book with Cambridge University Press, "Resilience Engineering: Models and Analysis."
Reviresco June run
UD ROTC cadets will run from New York City to Miami this month to raise awareness about veterans' affairs.
UD football watch parties will be held at the home of 1992 graduate Larry Gittelman in Omaha, Neb., and also in Washington, D.C., in Cayce, S.C., and in Reading, Pa.
Alumni are encouraged to wear Delaware Blue and Gold to cheer on the Hens.
Other activities are as follows:
Monday, Oct. 29, 7 p.m.: Delaware alumni reception at the AIChE annual meeting. Department of Chemical and Biomolecular Engineering alumni will gather at a reception during the American Institute of Chemical Engineers annual meeting at the David L. Lawrence Convention Center in Pittsburgh.
Friday, Nov. 9, 5:30 p.m.: Boston Celtics basketball. The Boston Alumni Club will sponsor an event at TD Garden as the Boston Celtics take on the Philadelphia 76ers in an NBA game.
Saturday, Nov. 10, 1:30 p.m.: Richmond tailgate. The Richmond Alumni Club will hold its second annual tailgate as the Blue Hens football team takes on the University of Richmond.
Sunday, Nov. 11, 9:30 a.m.: Miami Dolphins football. Blue Hens will convene at Sun Life Stadium for a Miami Dolphins game and a special tailgate in an event sponsored by the South Florida Alumni Club.
Wednesday, Nov. 14, 5:30 p.m.: Traditional, New, and Technical Art Histories at the Red and White Monasteries. Alumni are invited to attend this free lecture, hosted by the Friends of Art History on the University's Newark campus.
Thursday, Nov. 15, 6 p.m.: An Evening of Conversations and Connections with New York City Alumni. Alumni, students and friends are invited to this second annual event, at which they can meet and learn from successful UD alumni and expand their professional networks. The evening's theme, "Lessons in Global Strategies," will feature an interactive discussion focused on the ever-increasing importance of engaging in worldwide business and communications across all industries.
Monday, Nov. 19, 4:30 p.m.: President's Leadership Series Inaugural Lecture. Alumni are invited to join the UD community on the Newark campus for the President's Leadership Series Inaugural Lecture to be given by Thomas Connelly Jr., executive vice president and chief innovation officer at DuPont.
The Office of Alumni Relations recognizes and thanks the UD Alumni Association for its support of some of these events.
Photo by Mark Campbell