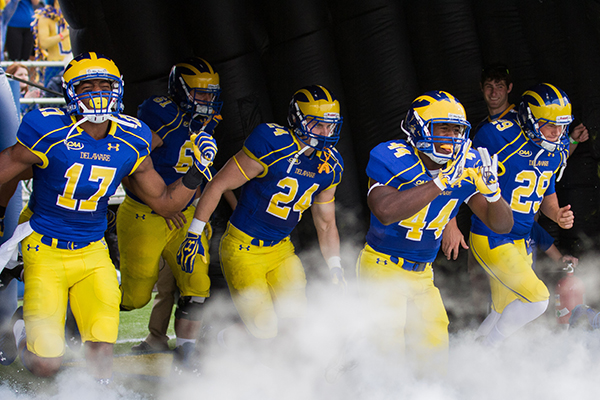 Alumni activities
Blue Hens to gather for activities including UD football watch parties
9:39 a.m., Oct. 12, 2012--University of Delaware alumni will get together in coming weeks for a broad range of activities, including the Far Hills Race Meeting in New Jersey and the Head of the Charles Regatta in Boston.
Blue Hens football is on the schedule Saturdays, Oct. 27 and Nov. 3, with alumni watch parties planned in a variety of locales including Delaware, Washington, D.C., Omaha, Neb., and Cayce, S.C.
'Resilience Engineering'
The University of Delaware's Nii Attoh-Okine recently published a new book with Cambridge University Press, "Resilience Engineering: Models and Analysis."
Reviresco June run
UD ROTC cadets will run from New York City to Miami this month to raise awareness about veterans' affairs.
Alumni activities in coming weeks include:
Saturday, Oct. 20, 10 a.m.: UD Alumni Tailgate at "The Hunt." UD alumni will hold the third annual tailgate at the Far Hills (N.J.) Race Meeting. The event is sponsored by UD's Northern New Jersey Alumni Club.
Saturday, Oct. 20, 11 a.m.: Boston Alumni Club at Head of the Charles Regatta. Boston area alumni will gather for the Head of the Charles Regatta, the world's largest two-day rowing event. Alumni can cheer on fellow Blue Hens who will be racing as they enjoy refreshments at the UD tent in Reunion Village.
Wednesday, Oct. 24, 6 p.m.: Operations Management Alumni Student Connections Dinner. A free networking dinner for operations management alumni will be held in Clayton Hall on UD's Laird Campus in Newark.
Thursday, Oct. 25, 5:30 p.m.: Shaping Artistic Legacies: Robert Rauschenberg and Philip Johnson. A free lecture, hosted by the Friends of Art History, will be held on the Newark campus.
Thursday, Oct. 25, 6:30 p.m.: Washington, D.C., wine tasting. Alumni who attend can enjoy a sampling of wines and light hors d'oeuvres at Veritas Wine Bar.
Saturday, Oct. 27, noon: Alumni have announced plans for UD football watch parties at the Copperhead Grille in Allentown, Pa., at Penn Social in Washington, D.C., and at Grotto pizza in Wilmington as the Fightin' Blue Hens meet Old Dominion University. The Wilmington event is family friendly and alumni are invited to bring their children.
Monday, Oct. 29, 7 p.m.: Delaware alumni reception at the AIChE annual meeting. Department of Chemical and Biomolecular Engineering alumni will gather at a reception during the American Institute of Chemical Engineers annual meeting at the David L. Lawrence Convention Center in Pittsburgh.
Saturday, Nov. 3: UD football watch parties will be held at the home of 1992 graduate Larry Gittelman in Omaha, Neb., in Washington, D.C., in Cayce, S.C., and in Reading, Pa., as the Hens take on Towson University.
Friday, Nov. 9, 5:30 p.m.: Boston Celtics basketball. The Boston Alumni Club will sponsor an event at TD Garden as the Boston Celtics take on the Philadelphia 76ers in an NBA game.
Saturday, Nov. 10, 1:30 p.m.: Richmond tailgate. The Richmond Alumni Club will hold its second annual tailgate as the Blue Hens football team takes on the University of Richmond.
The Office of Alumni Relations recognizes and thanks the UD Alumni Association for its support of some of these events.
Photo by Mark Campbell