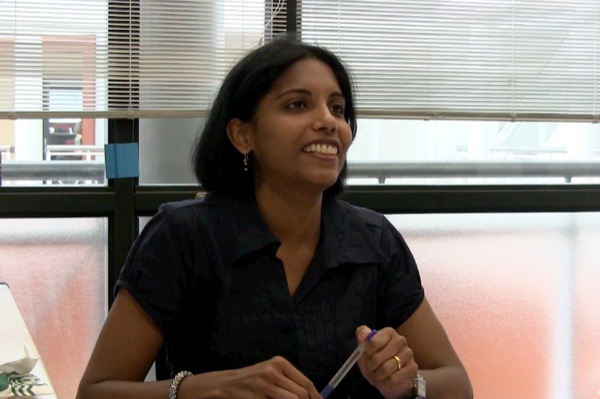 Canvas as alternative to Sakai@UD
Professor uses two different learning management systems to gauge the utility of each
Editor's note: This article is part of a continuing series by University IT on innovative use of technology in campus classrooms.
2:28 p.m., Nov. 2, 2012--Anuradha Sivaraman, assistant professor of business administration at the University of Delaware, received the opportunity to test drive the learning management system Canvas in spring 2012. Using Canvas in one section of a marketing course and Sakai@UD in another section of the same course, Sivaraman was able to compile student feedback as well as experiment with the two management systems.
"I felt like it was easier to use, compared to my first time using Sakai. If you already know Sakai, of course the transition is going to be so much easier. And a lot of features start out being similar to Sakai but then turn out to be much simpler," Sivaraman said. 
June 6: UDid It! Picnic
All UD faculty and staff members are invited to attend the annual UDid It! employee appreciation picnic, set from 11 a.m.-1:30 p.m., Monday, June 6, on The Green.
2FA protects you
If you are using two-factor authentication (2FA), even if a hacker has your password, your information is probably safe.
The students also found Canvas to be similar to Sakai@UD but with more ease and utility. Sivaraman shared, "They seemed to be very comfortable and ran with it. They actually liked some of the features on Canvas that are not available on Sakai because it makes it easier for them to speak to the professor. For features that are available on both platforms they preferred Canvas' version." 
From a professor's standpoint, Sivaraman said she felt very strongly about Canvas' grade book. "You can grade online on Canvas; you don't have to download anything and grade it. I was able to do everything on the Canvas screen itself. Getting and giving feedback was amazingly easy, too. It saved a lot of time for my TAs because they don't have to do the busy work of downloading and uploading," she explained.
And office hours no longer need to be held in the office. With Canvas, Sivaraman was able to video chat with her students from home. "I had office hours from 9 to 10 at night on a Sunday, and it worked out great for my students if they had a Monday morning exam." 
However, Sivaraman emphasized, "Now, I don't want to give the impression that I was always on because of Canvas; it just made it convenient for me to use it when I wanted to use it."
To increase accessibility, Canvas produced an app for the iPhone, which Sivaraman downloaded and used to manage Canvas and respond to students when she was not at her desk. "The fact that there was an app was exciting! You could do everything you were doing on the website. And I think students appreciated that immediate connection on their phone," she said. 
Sivaraman embraces technology and wants to find ways to creatively incorporate it into the classroom. "I think technology has a great impact on today's students. We are seeing the Facebook generation, but technology is ever changing, and if we want to use it creatively, we need to keep learning new ones and finding new ways to use it," Sivaraman elaborated.
Along with many other features, Canvas also has the capabilities to integrate Facebook, Twitter, LinkedIn, Skype, Google Docs, Delicious and Diigo into its dashboard. "Tomorrow if something new pops up, I'll be the first to try it," she said with a smile.
IT Client Support & Services is offering the upcoming events to acquaint faculty with the Canvas pilot program:
Article by Sarah E. Meadows