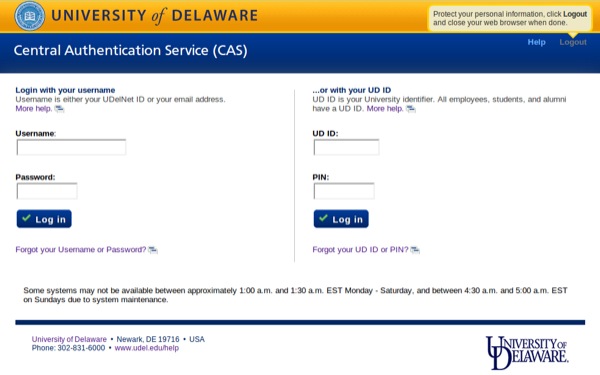 'My Finances' site security
UD upgrades parent, guardian security for 'My Finances' site
8:37 a.m., Nov. 29, 2012--The University of Delaware has upgraded the security for parents and guardians to access students' financial information.
The interface that allows UD staff, students and alumni to log in securely to University systems and forms is called the Central Authentication Service (CAS). 
June 6: UDid It! Picnic
All UD faculty and staff members are invited to attend the annual UDid It! employee appreciation picnic, set from 11 a.m.-1:30 p.m., Monday, June 6, on The Green.
2FA protects you
If you are using two-factor authentication (2FA), even if a hacker has your password, your information is probably safe.
CAS has recently been upgraded as part of IT Web Development's (IT-WD) efforts to continually improve the University's business systems infrastructure and security; CAS will now be used as the basis for guest authentication.
"'My Finances' is a customized site that provides student financial information related to billing, payments and financial aid," said Melissa Stone, director of Student Financial Services. 
"In the coming days, parents and guardians who are currently authorized to access their student's information will be prompted to create a new login when they access 'My Finances,' so that they may benefit from the same improved security our other constituents benefit from," she said.
This process involves implementing increased password security and associating parents and guardians with their student, so that all student information is part of an even more robust security process.
What to expect
The initial steps will take parents and guardians a few minutes to complete the next time they log in to "My Finances" and will include the following:
1. Confirm email address: The email address will continue to be the username.
2. Reset password: Parent and guardians may be required to create a stronger password to meet security thresholds.
3. Choose security questions: Used to retrieve forgotten log in information.
After parents and guardians successfully complete the process they will receive an email that confirms that they will use the CAS interface (see image) to log in to a new "Parent/Guardian Secure Services" web application to view the information that their students share. The first time they log in to this new site, they will also be prompted to update their profile and confirm their relationship with the student as the final step in transitioning to the new site.
Affected parents and guardians will also receive an email in the coming days from Student Financial Services detailing these upcoming changes.
"The security upgrade was a joint project between IT Network and System Services, IT-WD, the Registrar's office and the Student Financial Services office," said Dave Costrini, manager in IT Web Development.
"Cybersecurity is an important issue to everyone, and UD IT is dedicated to ensuring that we provide our customers and students with security best practices," he added.
Contact the IT Support Center or Student Financial Services with any questions.