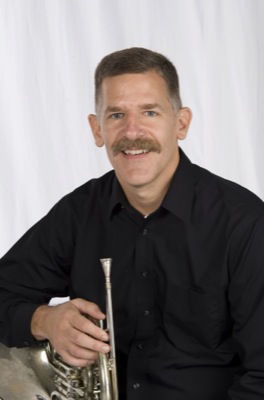 World of music
UD's Smith on European tour with renowned Orpheus Chamber Orchestra
1:23 p.m., Nov. 5, 2012--While political drama rages on Election Day in the United States, the University of Delaware's John David Smith, associate professor of music, will be performing and teaching in Moscow as part of a European tour with the internationally renowned Orpheus Chamber Orchestra.
As a guest of brass faculty members at the Tchaikovsky Conservatory of Music, Smith will conduct a master class for advanced horn students before continuing the orchestra tour with additional concerts in Berlin, Munich, Dusseldorf, Basel and Vienna, where Orpheus will perform at the Musikverein, home of the Vienna Philharmonic.
Fulbright awards
Three University of Delaware students and an alumna have received word this spring that they will travel abroad as part of the newest class of Fulbright Student Program award winners.
Peace Corps plans
Two University of Delaware students, John McCarron and Bridgette Spritz, have been selected as Peace Corps volunteers and will serve in Ghana and Rwanda.
Smith received the invitation to work with students in Moscow through his involvement with the International Horn Society, for which he acts as area representative for Delaware. He has previously presented lectures and performed as soloist and conductor of the UD Horn Ensemble at IHS Symposia in Brisbane, Australia, San Francisco and Denver.
His connection with European colleagues began in earnest as an exchange student at the Royal Academy of Music in London during his doctoral work at Juilliard; at the Royal Academy he earned the brass teacher licentiate and the advanced diploma in music.
The Orpheus European tour is part of a highly active year for Smith and the UD Horn Studio – the UD Horn Ensemble recently performed as part of ProjectMusic and as part of a recital featuring all of the music department's brass ensembles.
Smith and his students are slated for performances and presentations at the upcoming Northeast and Southeast Horn Workshops as well as the next International Horn Symposium in Memphis in July 2013.
Smith continues in his capacity as principal horn of the Chamber Orchestra of Philadelphia, Opera Company of Philadelphia and the Philly Pops.
Recent guest performances at Carnegie Hall with the Metropolitan Opera Orchestra and at the Kimmel Center with the Philadelphia Orchestra are further highlights of his busy fall semester.
Information about the UD Horn Studio and Smith can be found at this website.