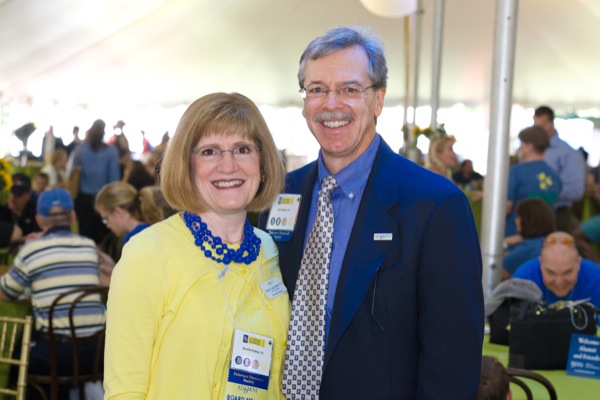 UDAA president funds scholarship
Blue Hens volleyball program receives first endowed scholarship
7:52 a.m., Nov. 2, 2012--As president of the University of Delaware Alumni Association (UDAA), Darelle Lake Riabov encourages alumni to remain actively involved with the University, long past graduation. Those words of encouragement often include appeals to give back to the University in any way possible, whether it be volunteering, mentoring or making a donation.
Riabov, a 1973 alumna, has long supported her mantra of philanthropy with positive actions but recently she took her commitment to a whole new level. With her husband, John Riabov, a 1975 alumnus, she made a gift to the University to create the Darelle Lake Riabov and John Riabov Volleyball Scholarship. 
'Resilience Engineering'
The University of Delaware's Nii Attoh-Okine recently published a new book with Cambridge University Press, "Resilience Engineering: Models and Analysis."
Reviresco June run
UD ROTC cadets will run from New York City to Miami this month to raise awareness about veterans' affairs.
The endowed scholarship will be given each season to a student-athlete on the women's volleyball team. The recipient must excel in the classroom, maintaining a 3.25 grade point average, and demonstrate leadership and dedication to her sport, both on and off the court. 
"It's a huge honor to our student-athletes and to this program to have a contribution like this," said head volleyball coach Bonnie J. Kenny. "Darelle and John clearly think very highly of our girls, of their involvement on campus and their dedication to the sport, as well as the potential they have for the future, after graduation." 
The Riabovs met Kenny three years ago at a UDAA-sponsored women's basketball event, after which Kenny extended an invitation for the Riabovs to attend a volleyball game on campus.
"She was so personable and engaging that we liked her immediately," said Darelle Riabov. "Coach Kenny guides her team, both as athletes and as young women. She makes a difference in their lives."
As alumni and as members of the Delaware Diamonds Society, a recognition society for donors who annually give $1,000 or more to the University, the Riabovs had planned to make a significant gift to UD at some point. 
"When we talked with Phil Tribble (associate director of major gifts for intercollegiate athletics) about our intentions, he mentioned that the volleyball program didn't have any endowed scholarships. That fact – along with our positive impression of Coach Kenny – made us want to be the first to establish such a fund," said Riabov. 
The scholarship for the 2012 academic year was awarded to Chandler Bryant, a sophomore middle hitter from Greensboro, N.C.
"I am so honored to be a recipient of this scholarship," said Bryant. "I always try my very best to work hard and demonstrate leadership. My goal here at Delaware is to not only be the best student-athlete I can be, but to also be the best person I can be and have a positive impact on everyone I meet."
Bryant, an honors student and biological sciences major, had the opportunity to meet the Riabovs at a Blue Hen donor reception earlier this fall.
"The Riabovs are such fun, intelligent and engaging people to talk to," said Bryant. "Whenever I speak with them, they are so kind and extremely supportive. I think the Riabovs chose the volleyball team for a scholarship because we have an esteemed program made up of a great group of hard-working staff and student-athletes who strive to represent UD in the best light possible."
The Riabovs were themselves dedicated student-athletes: Darelle, a cheerleader in high school, at UD and on the professional level; and John a four-sport varsity athlete in high school. They understand the commitment a student-athlete must make to succeed.
"We both recognized from our personal experiences that participation in sports helps develop young people into disciplined, focused students, who later become well-rounded, successful adults," said Darelle Riabov.
The couple wanted their contribution to "impact a UD student on a personal-development level," she said.
"I can say that we have never felt more proud and engaged as Blue Hens than we do now," said Riabov. "We hope what we are doing can have an impact. That's a great feeling."
Article by Amanda Rominiecki
Photo by Kevin Quinlan