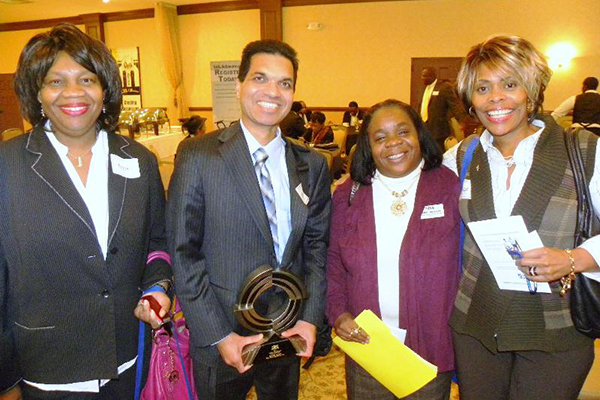 Contracting business
Procurement Technical Assistance Center helps companies navigate world of government contracts
11:59 a.m., Nov. 26, 2012--After Superstorm Sandy tore through New York City, Juanita Beauford got a call from FEMA asking her if she could help source 40,000 kosher meals. Beauford and other staff members at the Procurement Technical Assistance Center (PTAC) of Delaware immediately got on the phone and starting looking for vendors who could fill the order.
They first explored all possibilities in Delaware and then reached out to other PTACs across the country. FEMA eventually lined up the needed meals, and Beauford moved on to doing what she does best — helping small businesses navigate the federal contracting world.
From graduates, faculty
As it neared time for the processional to open the University of Delaware Commencement ceremonies, graduating students and faculty members shared their feelings about what the event means to them.
Doctoral hooding
It was a day of triumph, cheers and collective relief as more than 160 students from 21 nations participated in the University of Delaware's Doctoral Hooding Convocation held Friday morning on The Green.
During the past year, PTAC, which is part of the Small Business and Technology Development Center (SBTDC) within the Office of Economic Innovation and Partnerships (OEIP) at the University of Delaware, assisted clients who reported 142 awards totaling almost $100 million — the highest annual tally in the organization's 13-year history at UD. 
Felicia Enuha of Bristol Industrial Corporation is one of PTAC's recent successes. Building on her experience in production, marketing, and technical operations, Enuha launched Bristol in 2001 to distribute pipes, valves and fittings to utility companies. 
After achieving success in that niche, she expanded into construction in 2009. Since then, her business has grown substantially and has been awarded contracts by Exelon Nuclear, PECO, Pennsylvania Power and Light, and Delmarva Power. Enuha was named the 2012 Delaware Minority Small Business Person of the Year by the Small Business Administration. 
"For the past twelve years, PTAC, and in particular Juanita, has provided assistance on the many technical aspects of federal contracting and even attended meetings with me when necessary to ensure I had the best possible opportunities to be awarded contracts," Enuha says. 
Among the services PTAC provided at no charge to the business are federal database registration guidance, contract packaging services, and market and pricing research, enabling Bristol to successfully bid on contracts with the Army Corps of Engineers, Dover Air Force Base, the U.S. General Services Administration, and Delmarva Power.  Most recently, the business was awarded two contracts with the Wilmington Housing Authority. 
"Felicia told us that she would be glad to allow her business to be featured in a 'success story' once it achieved the $1 million in sales mark," Beauford says. "She is grateful to have surpassed that goal a few times over."
Barbara Necarsulmer, associate director of SBTDC, points out that PTAC works in both directions, not only helping companies win contracts but also assisting the government in finding contractors to meet their needs.
"The federal government is the biggest buyer of goods and services, so they often contact us looking for companies with specific capabilities," she says. "The FEMA request was a good example of this interactive process — many of the companies that would normally fill orders and provide services in New York were under water after Sandy. Juanita had met with FEMA in Washington a year or so ago to talk about response to a disaster like this, so they called her, and she was able to get the ball rolling."
The request for kosher meals was followed by five or six additional requests in the storm's aftermath.
PTAC's clients include a broad range of companies, from construction, architectural, and engineering firms to flooring, IT, manufacturing, landscaping, and food service. The center has about 650 active clients and helps some 60 to 80 of them win contracts each year.
About PTAC
Congress created the Procurement Technical Assistance Program (PTAP) in 1985 to help businesses seeking to compete successfully in federal, state and local government contracting. Funded through cooperative agreements between the Department of Defense and state and local entities, PTACs provide a range of expert services at little or no charge. Established in 1999, Delaware PTAC is one of 99 programs in the United States, operating in over 300 locations. 
About OEIP
Since its formation in 2008, under the direction of former DuPont vice president for research and development David Weir, OEIP has worked with the state, Delaware Technology Park, numerous researchers and companies in creating a culture where innovation and entrepreneurship can thrive in Delaware. 
About SBTDC
The Small Business and Technology Development Center, also a unit of OEIP, exists to strengthen Delaware's economic base by providing quality services such as management assistance, educational programs and resources to Delaware's business community and potential entrepreneurs.
Article by Diane Kukich