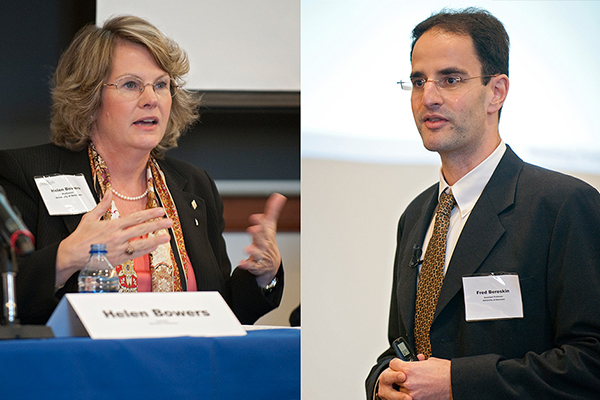 Poison puts
Finance professors receive IRRC research grant to study poison puts
11:10 a.m., Nov. 1, 2012--University of Delaware professors Frederick Bereskin and Helen Bowers have received $57,432 from the Investor Responsibility Research Center Institute (IRRC) to research their recent proposal, "Can Bondholders Veto Corporate Acquisitions? The Causes and Consequences of Poison Puts."
In January 2013, the professors will begin their investigation of the causes and consequences of poison puts, which are bond covenants that give the holder the option to demand immediate repayment of the entire bond issue if the firm is involved in an acquisition.
Chronic wounds
UD's Millicent Sullivan and Kristi Kiick have received a $1.4 million grant from the National Institutes of Health for research that could provide a new approach to the treatment of chronic wounds.
Prof. Heck's legacy
The American Chemical Society is highlighting the legacy of the late Nobel laureate Richard Heck, the Willis F. Harrington Professor Emeritus of Chemistry at the University of Delaware with a digital tribute on its publications website.
Both of the Department of Finance in UD's Alfred Lerner College of Business and Economics, Bereskin, an assistant professor, and Bowers, department chair and associate professor, will research if acquired firms and shareholders tend to do better or worse because of poison puts. 
According to the researchers, poison puts can either protect bondholders if they believe that the proposed acquisition may inhibit the firm's ability to make interest or principle payments, or harm shareholders by hindering their ability to benefit from acquisition activity.
Bowers explained, "The shareholders may want to participate in riskier activity than the bondholders, because shareholders will benefit more than bondholders if things go well. However, if things go poorly, the firm may be more likely to default on their bonds. If the probability of default goes up, the bonds are less valuable."
Bereskin also explained the motivation for why poison puts might exist.
"Bondholders value that kind of protection," said Bereskin. "Poison puts protect the bondholders by giving them the right to be repaid in a change of control event, such as when the firm acquires another firm. Usually anything that gives a party the right to do something is valuable.
"If the right to 'put the bond' back to the firm in the event of an acquisition is valuable, then the bondholders should be willing to settle for a lower rate of return, which means that the firm would pay a lower interest rate on the bonds," he added.
As part of their research, Bereskin and Bowers will examine the acquisition activities of a variety of firms and present their empirical results in a research paper.
Bowers explained the data collection that makes up the first part of the research could be extensive given the large number of bond issues.
The researchers will then gather the history of acquisition activities for firms both with and without bonds with poison puts. They will also gather information on poison puts that have been exercised.
According to Bowers, although poison puts have been in common use for a long time, there is not much research on how they affect firms' acquisition activity.
"We don't know to what extent the puts are exercised and to what extent they affect a firm's probability of being acquired," said Bowers. "It may be that they do not have very much affect on the bondholders at all."
Bereskin and Bowers said their project aims to open up new avenues of research because, compared to research on equity, there has not been as much corporate governance research related to bonds.
"We hope the outcomes of the research will help firms make more informed decisions when they're devising their debt covenants and investors to make more informed decisions when they invest in firms whose bonds contain poison puts," said Bowers. 
The IRRC Institute is a non-profit organization established in 2006 that funds both social and corporate governance research and capital market research, which effects investor and company decision-making. 
Bereskin and Bowers teamed with IRRC Executive Director Jon Lukomnik after meeting at an event sponsored by the John L. Weinberg Center for Corporate Governance which led to a conversation about the relevancy of poison puts in corporate finance and the need for additional research.
Article by Danielle C. DeVita