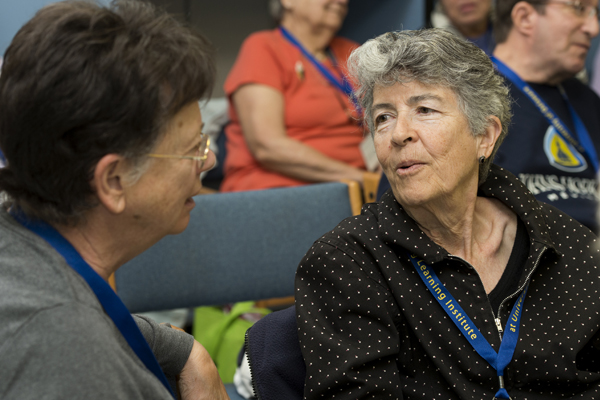 Rehoboth lectures
Osher Lifelong Learning Institute announces Winter Lecture Series in Rehoboth
8:40 a.m., Nov. 14, 2012--Topics including everything from presidential politics, opera, National Public Radio and oceanography will be featured during a Winter Lecture Series offered by the Osher Lifelong Learning Institute at the University of Delaware at 10 a.m. Fridays in January and February 2013 at the Rehoboth Beach Convention Center.
"We are delighted to present this excellent lineup of distinguished speakers who will share their insights and experiences on diverse and thought-provoking topics," says Jim Broomall, associate provost for professional and continuing studies at UD. "If you're 50 and over and looking for something fun and interesting to do in winter, this is for you."
From graduates, faculty
As it neared time for the processional to open the University of Delaware Commencement ceremonies, graduating students and faculty members shared their feelings about what the event means to them.
Doctoral hooding
It was a day of triumph, cheers and collective relief as more than 160 students from 21 nations participated in the University of Delaware's Doctoral Hooding Convocation held Friday morning on The Green.
The winter lectures include:
Jan. 18 – "An Insider's Guide to Public Radio," by Liane Hansen, former host of NPR's Weekend Edition Sunday.
Jan. 25 – "Implications of the 2012 Presidential Election: Candidates, Money and Media," by Ralph Begleiter, former CNN world affairs correspondent and director of UD's Center for Political Communication.
Feb. 1 – "Global Ocean Challenges and the Future of Marine Science," by Mark Moline, director of the UD School of Marine Science and Policy.
Feb. 8 –"Behind the Scenes at the Opera," by Patricia Mossel, whose career included serving as director of development at San Francisco Opera and executive director of the Washington National Opera.
Registration for the Winter Lecture Series is open to anyone 50 years of age or over at a cost of $25 for the entire series and $20 for UD alumni.  Registration will be accepted through Dec. 12 on a first-come, first-served basis and after Dec. 12 based on availability.
The one-hour lectures will be held in the Conference Suite of the Rehoboth Beach Convention Center on Rehoboth Avenue. For more information or a registration form, visit the website or call 302-645-4111. 
About Osher
The Winter Lecture Series is offered by the Osher Lifelong Learning Institute at the University of Delaware, which has programs in all three counties in Delaware. The Sussex County program is based in Lewes and also will be holding its spring semester classes Jan. 14 through March 25. Most of these classes take place at the Lewes School on Savannah Road in Lewes and the program recently expanded to Bethany Beach.
Sample courses for the Lewes spring semester include: Beginning Pottery and Beyond; The Causes of World War I; Musicals of Oscar Hammerstein; Basic Auto and Truck Repair and Maintenance; How to Look at and Understand Great Art; Spring Field Birding and Computer Security and Cybercrime.  A catalog with a full listing of courses for the Lewes spring semester will be available in late November at the website.
The Osher Lifelong Learning Institutes at the University of Delaware are membership organizations that provide opportunities for adults 50 and over to learn, teach, and travel with their peers. The only requirements for admission are interest in a continuing educational experience, support of the programs through participation, and a modest membership fee. UD's Osher Lifelong Learning Institutes are located in Wilmington, Dover, and Lewes.