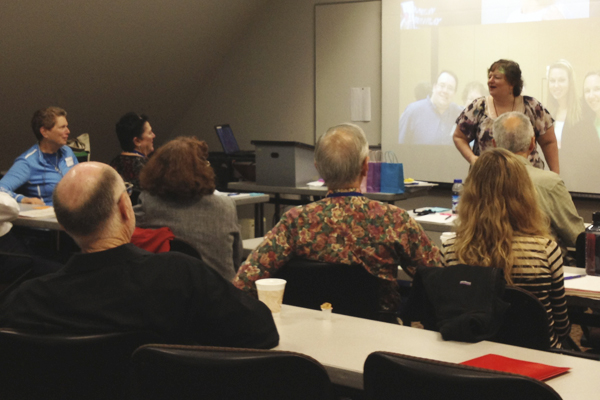 Language workshop
Osher hosts foreign language teaching workshop at Arsht Hall
11:11 a.m., Nov. 15, 2012--The Osher Lifelong Learning Institute at the University of Delaware in Wilmington hosted a workshop for language teachers at the high school, university and older adult levels on Oct. 26.
The workshop was the outgrowth of James F. Weiher's interest in alternate and non-traditional approaches to foreign language instruction. As a teacher of German and as foreign language coordinator in the lifelong learning program, Weiher said he has come to believe in Stephen Krashen's hypotheses that learning about a language is different from language acquisition and that fluency stems from receiving adequate input that is interesting and comprehensible rather than from studying grammar, memorizing vocabulary and practicing output.
From graduates, faculty
As it neared time for the processional to open the University of Delaware Commencement ceremonies, graduating students and faculty members shared their feelings about what the event means to them.
Doctoral hooding
It was a day of triumph, cheers and collective relief as more than 160 students from 21 nations participated in the University of Delaware's Doctoral Hooding Convocation held Friday morning on The Green.
Basil Maas, the University coordinator at the Osher Lifelong Learning Institute at UD in Wilmington, greeted the arriving participants and welcomed the speaker. 
Christiane Shields, coordinator of the workshop, opened the daylong event by introducing Laurie Clarcq, who teaches Spanish in Rochester, N.Y., and is a nationally known teacher and trainer of Teaching Proficiency through Reading and Storytelling (TPRS). 
Clarcq demonstrated the approach by giving a brief lesson in beginning Vietnamese.
She provided the historical background of both Total Physical Response (TPR) and TPRS and illustrated common techniques, such as embedded reading, circling, use of student actors and personalization.
The workshop was attended by teachers of French, Italian, Spanish and German -- and enthusiastically received by most participants. 
For example, Mary Shenvi of St. Elizabeth High School said, "I found myself inspired by Laurie Clarcq's presentation to re-examine and re-evaluate the strategies that I use in teaching foreign language, ESL and adult learners. I immediately went home and designed two lessons, based on TPRS methodology, which I will try out in the coming week."
Jeanne Hanson, who teaches Spanish at the Osher Lifelong Learning Institute said, "I intend to begin immediately to incorporate some of the things I learned and hope to increase my use of TPRS and embedded reading considerably next fall. I'm going to look into changing my textbook and/or changing how I use it."
Clarcq reported after the workshop that several participants spoke to her during lunch and let her know that "they could now see the power in the method. They also said that it surprised them because they had come into the presentation prepared to be quite negative. The demonstration in Vietnamese had been successful in opening their eyes to what it was like to be a student once again, and how powerful TPRS can be, even after a short period of time."
Reflecting on the diversity of the participants, Clarcq also reported that her experience has been that "people come to TPRS when, and if, they are ready, and that the journey is different for everyone."
She added, "A number of the participants found that they had to examine their previous beliefs about TPRS and about their own ideas about language instruction. Some will try to incorporate bits and pieces of it in their own teaching. Several will explore it before attempting that."
Several participants expressed their desire to meet regularly with others to develop both their teaching skills and materials using TPR/TPRS.
Photo courtesy of Christiane Shields