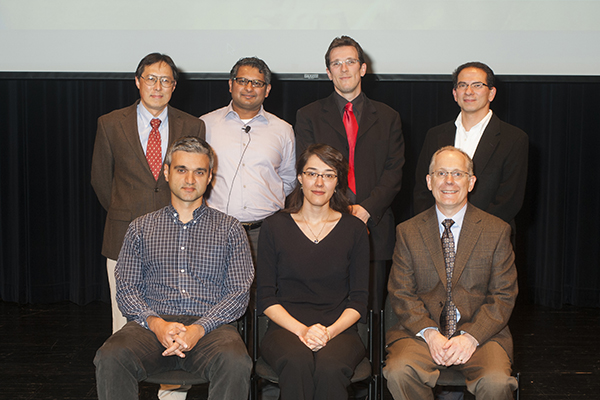 Nobel insights
UD faculty experts explain prize-winning work at event on Nobels
9:14 a.m., Nov. 5, 2012--With scientific discoveries that have led to better medicines with fewer side effects, the promise of using a patient's own cells to grow new tissue for treatment of illness, and the foundation for building super-fast computers and ultra-precise clocks, the impact of this year's Nobel Prize winners is clear.
On Oct. 24, seven University of Delaware faculty members — each with particular expertise in one of the prize-winning areas of study — explained the work and its significance to an audience in Mitchell Hall.
Chronic wounds
UD's Millicent Sullivan and Kristi Kiick have received a $1.4 million grant from the National Institutes of Health for research that could provide a new approach to the treatment of chronic wounds.
Prof. Heck's legacy
The American Chemical Society is highlighting the legacy of the late Nobel laureate Richard Heck, the Willis F. Harrington Professor Emeritus of Chemistry at the University of Delaware with a digital tribute on its publications website.
The College of Arts and Sciences sponsors this series of short lectures each fall, shortly after the Nobel Prizes are announced. Doug Doren, an associate dean of the college who organizes the annual event, said he never has difficulty finding highly qualified faculty members to discuss the work behind each prize.
"That is certainly a sign of our strength as a research university," he told those attending this year's lecture, adding that the prizes all represent work with "a broad impact on science, society and culture."
Here are the six prizes discussed at the lecture.
Physiology or medicine
Salil Lachke, assistant professor of biological sciences, explained the work done by John B. Gurdon and Shinya Yamanaka, who were awarded the Nobel Prize for their discovery that mature, specialized cells can be reprogrammed to become "pluripotent." Like embryonic stem cells, pluripotent cells can form any type of tissue in the body.
Gurdon began his research in 1958, when microbiology was at a very early stage, Lachke noted. He was able to learn that an egg contains all the factors needed to reprogram a mature cell nucleus from a specialized cell (such as a muscle, brain or heart cell) into a pluripotent cell.
More than 40 years after that discovery, Yamanaka looked at the 25,000 genes in the human genome and found that just four of them are sufficient to reprogram mature skin cells. With the two men's discoveries, Lachke said, scientists have the basis for converting a person's specialized type of cell.
"Together, their work has opened the field of regenerative medicine," he said.
For a video of Lachke's presentation, click here.
Chemistry
John Koh, professor of chemistry and biochemistry, spoke about the prize awarded to Robert J. Lefkowitz and Brian K. Kobilka for their research on the tiny receptors, on the surface of cells, known as G-Protein Coupled Receptors (GPCRs). Those receptors allow cells to communicate, sense their environment and adapt to new situations.
Lefkowitz began his research in the 1960s, when, Koh said, little was known about how cells react to hormones except for the assumption that some type of receptor was involved. Today, scientists have an almost complete molecular description of the structure of receptors, he said.
Koh showed a chart listing the 120 most common prescription drugs and said that half of them — including Lipitor, insulin and antihistamines — interact through GPCRs. 
The research on cell receptors, he said, "lets us develop better drugs with less side effects," higher potency and the potential to maintain their effectiveness for longer periods.
For a video of Koh's presentation, click here.
Physics
Virginia Lorenz, assistant professor of physics and astronomy, discussed the research conducted by Serge Haroche and David J. Wineland, who won the physics prize "for groundbreaking experimental methods" of measuring and manipulating individual quantum particles without destroying them.
The two men conducted a kind of mirror image of each other's research, Lorenz said. Both worked with light (whose quantum systems, or smallest units, are photons) and matter (whose quantum systems are atoms).
"Haroche used atoms to probe photons," Lorenz said. "Wineland used photons to study atoms." In both cases, the scientists found ways to detect and measure individual particles without destroying them, which was previously thought to be impossible. 
The work is an important step toward extremely high-speed quantum computing, which could revolutionize computing, Lorenz said, and toward highly precise time-keeping.
For a video of Lorenz's presentation, click here.
Literature
Jianguo Chen, associate professor of foreign languages and literatures, spoke about Mo Yan, winner of the literature prize, whose writing "merges folk tales, history and the contemporary," according to the Nobel committee.
Mo, who has been compared to novelists William Faulkner and Gabriel Garcia Marquez (both also Nobel laureates), is "one of the most prolific, widely read and widely translated Chinese writers," Chen said. He has written 10 novels and more than 100 novellas and short stories, as well as essays, plays and film scripts.
Chen said Mo took the Western literary genre and style of "hallucinatory realism" — which blends fantasy and reality, the past and the present — and extended it to encompass his own style, including Chinese literary and oral traditions. 
Mo Yan is a pen name, meaning "Don't speak." The author's given name is Guan Moye.
For a video of Chen's presentation, click here.
Peace 
Daniel Kinderman, assistant professor of political science and international relations, noted that the Nobel Peace Prize is always controversial and that its award this year to the European Union (EU) drew "incredulity and outrage."
He went on to outline reasons in support of the choice and arguments against it. In its original announcement of the prize, the Nobel Committee cited the EU for six decades of contributions to peace, democracy and human rights in Europe. Although other factors, including NATO and American military power, also contributed to that success, Kinderman said that 60 years of peace among the EU's 27 nations and half-billion people "is no small achievement."
Still, he said, many Europeans view peace as not just the absence of war but also as social peace. The current financial crisis has meant hardship and turmoil for many, who object to the EU's selection for the Peace Prize, Kinderman said.
Awarding the prize this year, he said, may be the Nobel Committee's way of appealing to the EU to end the crisis quickly and for residents to continue to support the union.
For a video of Kinderman's presentation, click here.
Economics
Sebastian Cioaba, assistant professor of mathematical sciences, and Michael Arnold, associate professor of economics and director of the Honors Program, explained the research that won the Sveriges Riksbank Prize in Economic Sciences. The prize was awarded to Alvin E. Roth and Lloyd S. Shapley, for their research on matching different agents — such as students with schools and organ donors with transplant patients — efficiently.
Cioaba focused his talk on Shapley, who did the theoretical work, based on game theory, to come up with the research on "stable allocations" of resources. By matching pairs such as medical students with hospital residency programs, using each side's order of preferences, Shapley helped devise an algorithm that would result in stable matches even if all the students and all the programs weren't matched with their first choices, Cioaba said.
Arnold then spoke about Roth, who worked on market design, using markets — such as organs for transplant patients or students for New York City public schools — where price is not a factor. 
As a result of the combination of theory and application, Arnold said, patient-organ transplant systems have improved and a move is under way to establish a national kidney matching system.
For a video of the presentation by Cioaba and Arnold, click here.
Article by Ann Manser
Photo by Duane Perry
Videos by Andrew Brett, University Media Services