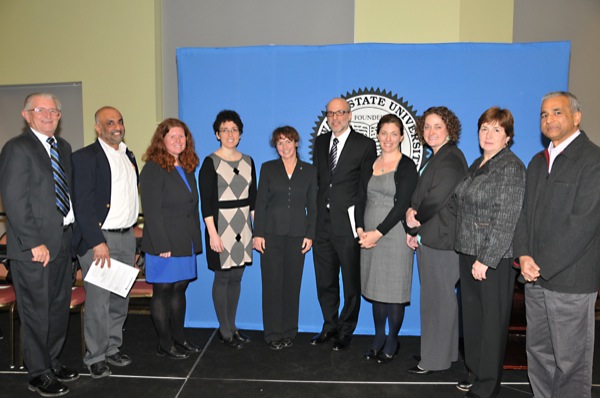 Neuroscience grant
$10.5 million award to fund joint Delaware neuroscience research center
9:16 a.m., Nov. 28, 2012--A five-year, $10.5 million grant from the National Institutes of Health will fund a new Delaware Center for Neuroscience Research, a partnership between the University of Delaware and Delaware State University (DSU), the lead institution where the center will be housed.
The grant, announced at a news conference this week at DSU, will provide support for the established research projects of five investigators at the two universities — three in UD's Department of Psychology and two biology professors at DSU. Four other faculty members will receive smaller, pilot grants designed to enable them to begin new research projects or take their current research in new directions. Of the total grant, DSU will receive $7.3 million and UD $3.2 million.
Chronic wounds
UD's Millicent Sullivan and Kristi Kiick have received a $1.4 million grant from the National Institutes of Health for research that could provide a new approach to the treatment of chronic wounds.
Prof. Heck's legacy
The American Chemical Society is highlighting the legacy of the late Nobel laureate Richard Heck, the Willis F. Harrington Professor Emeritus of Chemistry at the University of Delaware with a digital tribute on its publications website.
The funding came through the National Institutes of Health Centers of Biomedical Research Excellence (COBRE) program that supports interdisciplinary centers that strengthen institutions' research. The Delaware center is being established to conduct cutting-edge scientific research on brain development and the neurobiology of learning.
"There is a big benefit to bringing researchers together to share scientific information," said Melissa Harrington, DSU professor of biological sciences and director of the center. She said the center formalizes collaborations that have been ongoing for the past five years as researchers meet and work together across disciplines and institutions.
With UD's doctoral neuroscience program having a behavioral focus in the psychology department and DSU's having a biological focus, Harrington said, collaborations between the two programs offer advantages to students as well.
"It benefits students of both universities to be able to draw on the specialized expertise available at each institution," she said. "We don't compete; we complement."
Jeffrey Rosen, professor of psychology at UD and co-principal investigator with Harrington of the grant, said the timing of the award coincides with the University's expansion of its neuroscience curriculum and development of the Science, Technology and Advanced Research (STAR) Campus.
"It will also help promote neuroscience research through COBRE-sponsored symposia and seminars where Delaware neuroscientists can learn firsthand about the latest breakthroughs," Rosen said. "The COBRE award will help the UD and DSU neuroscience communities play a prominent, cooperative role in the expansion of basic and health-related neuroscience across the state of Delaware."
The announcement of the grant and the new center was attended by the three members of the state's congressional delegation, who praised the investment in scientific research as a way to make valuable new discoveries to improve health, attract talent and jobs to Delaware and provide expanded opportunities for students at both universities.
The faculty members receiving funding for their established research programs, which include such areas of study as learning and memory and fetal alcohol syndrome, are:
Harb Dhillon, DSU associate professor of biology;
Amy Griffin, UD assistant professor of psychology;
Anna Klintsova, UD associate professor of psychology;
Tania Roth, UD assistant professor of psychology; and
Cindy van Golen, DSU associate professor of biology.
Recipients of pilot grants through the neuroscience center, involving such areas of research as robotic navigation and infant verb learning, are:
Sunil K. Agrawal, UD professor of mechanical engineering;
Rachel Pulverman, DSU assistant professor of psychology, who earned her doctorate in linguistics at UD in 2005;
Theresa Szabo-Maas, DSU assistant professor of biology; and
Georgianna Gould, who will joint the DSU faculty in January as an assistant professor of biology.
Photo courtesy of Delaware State University