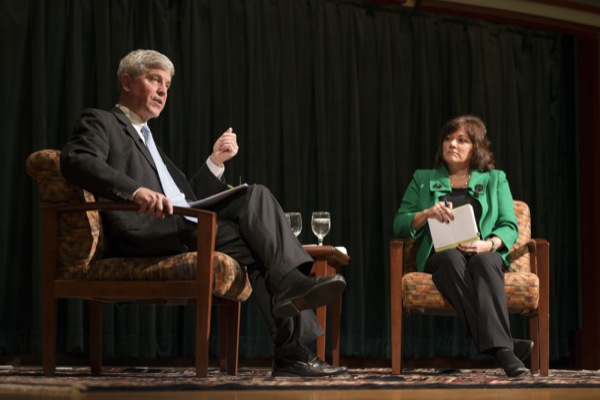 'Knowledge Society'
DuPont executive gives inaugural lecture in President's Leadership Series
3:04 p.m., Nov. 26, 2012--The President's Leadership Series launched Nov. 19 with Thomas M. Connelly Jr., executive vice president and chief innovation officer at DuPont, delivering the series' inaugural lecture at the Roselle Center for the Arts on the University of Delaware campus in Newark. In his address, titled "Universities and Business: Partnering for the Knowledge Society," Connelly discussed the mutual benefits that arise from the symbiotic partnership between universities and businesses in the 21st century.
The President's Leadership Series brings prominent innovators and leaders in business, technology, athletics, the arts and the humanities to campus to share their knowledge and life experience with the UD community. According to UD President Patrick Harker, Connelly was the ideal choice to deliver the first keynote address in the series.
'Resilience Engineering'
The University of Delaware's Nii Attoh-Okine recently published a new book with Cambridge University Press, "Resilience Engineering: Models and Analysis."
Reviresco June run
UD ROTC cadets will run from New York City to Miami this month to raise awareness about veterans' affairs.
"The impact of DuPont's longstanding generosity and collaboration can be seen all over the University -- not only in our world-class facilities, programs and faculty, but especially in the talented students who come to UD because of what this partnership between academia and industry promises," said Harker. "As the chief innovation officer of DuPont, which is itself one of the most innovative companies of our generation, Tom Connelly is uniquely qualified to talk about how, together, we can exploit the ideas and discoveries that drive the 21st century knowledge economy."
Connelly's lecture consisted of three parts. He first gave an overview of DuPont's long history of collaboration with both UD and other university partners. Second, Connelly laid out a successful case study in the research and development of cellulosic ethanol, an advanced biofuel synthesized from the biological waste products of harvested corn. This research, conducted jointly by DuPont and its university partners, illustrates the achievements that are possible when companies and universities work together toward a common goal. Finally, Connelly reviewed the advancements and trends in public policy that have enabled such collaborations to flourish.
"No single organization has all the resources, all the talent, all the equipment it needs to deliver innovation to the marketplace on a timeframe with which it's happy," concluded Connelly. "Collaboration is the watchword for innovation in the 21st century."
The lecture provided the perfect opportunity for Harker to recognize DuPont for its most recent partnership with UD – a $5 million gift toward the construction of the campus' new Interdisciplinary Science and Engineering Laboratory.  Harker was joined on stage by Connelly and James C. Borel, executive vice president at DuPont and a member of the UD board of trustees, where he was able to give the men each a small token of the University's gratitude for DuPont's latest investment at UD.
"As the name suggests, the Interdisciplinary Science and Engineering Laboratory's purpose goes to the heart of what we mean by inclusive innovation – bringing together people from different disciplines and perspectives to collaborate and create solutions to global challenges," said Borel. "We are thrilled to be a part of it."
Article by Shannon Pote
Photo by Evan Krape