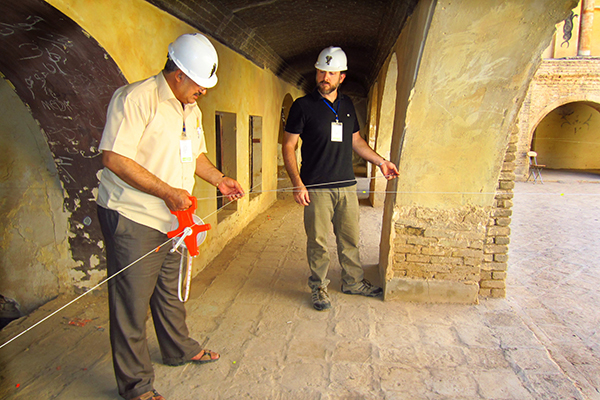 Safeguarding Iraq's immovable heritage
Architectural and site conservation program now under way in Erbil, Iraq
10:45 a.m., Nov. 5, 2012--The Iraqi Institute for the Conservation of Antiquities and Heritage (IICAH), which began its work in 2008, is now training students in methods to preserve and protect historic buildings and structures in Iraq through a new program developed by the IICAH partners and administered by the University of Delaware's Institute for Global Studies (IGS). 
Brian Michael Lione, a cultural heritage professional working for IGS, recently returned to Erbil, Iraq, to direct IICAH's Architectural and Site Conservation (ASC) program. The new program is the evolution of an initiative that began in 2010 focusing on historic preservation.
Fulbright awards
Three University of Delaware students and an alumna have received word this spring that they will travel abroad as part of the newest class of Fulbright Student Program award winners.
Peace Corps plans
Two University of Delaware students, John McCarron and Bridgette Spritz, have been selected as Peace Corps volunteers and will serve in Ghana and Rwanda.
The ASC program, which currently includes nine students — four men and five women from across Iraq — provides a basic introduction to the theoretical and practical aspects of preserving built heritage such as site stabilization and architectural survey. 
Students take two 12-week courses taught in English with Arabic and Kurdish translations. They also attend English language courses each day. At the completion of the courses, the students return to their sponsoring institutions to put what they have learned into practice.
Ten international visiting scholars are helping to teach the ASC courses, which started in September and will continue through March 2013.
"At the moment, we have professors from India, Romania and Sweden," says Lione, who has been affiliated with IICAH since 2009, initially as the overall project coordinator. 
While another program at IICAH deals with "movable heritage," things you can pick up, such as museum objects or artifacts from archaeological sites, Lione works on "immovable heritage" — architecture and standing structures, monuments and sites.
"I mostly work with architects, engineers and some archaeologists who work on what we call the 'built environment' or historic buildings," he explains. "We are primarily concerned with keeping these things from deteriorating and falling down."
Lione points out that the ASC students are fortunate to be able to use the Erbil Citadel, near to IICAH, as an open-air laboratory. Erbil Citadel is one of the oldest, continuously inhabited cities in the world, dating back at least 6,000 years. 
"We work on buildings at the citadel which are about 100 to 150 years old.  Our students are in the field every day," Lione says.
The students in the program already work with cultural and archaeological heritage in their professional positions at various historic sites and government offices in Iraq. 
"We hope that at the end of the two modules, they will take what they have learned and apply it in their daily work," Lione says.
"A lot of people's training in Iraq is simply a generation out of date," he adds. "The country has been at war for so long that a whole generation of heritage professionals was not allowed to travel outside the country, nor share information with their professional peers. Our goal is to bring the students up to an international standard of practice to improve the management of cultural heritage in Iraq."
Lione hopes that IICAH, with its many achievements in a short time, can secure funding to continue the ASC program, enabling them to offer another introductory course, as well as an advanced course in fall 2013.
For now, the students are not engaging in physical conservation work. 
"We are not touching anything. We just try to identify the problems [with the buildings] and come up with strategies to preserve them, which is the first step of any conservation program," Lione says. 
"This is an amazing place," Lione says of IICAH. "It is unique in Iraq and really in the Middle East. We have funding from the U.S. government, from the Kurdistan regional government and private donations. We have academics from all over the world who teach here. It is just a special place that is working really well."  
The collaboration mentioned by Lione is indeed unique. Partners in the IICAH include Iraq's State Board of Antiquities and Heritage, the Kurdistan regional government, Winterthur, Walters Art Museum, University of Arizona, University of Pennsylvania and the Getty Conservation Institute. 
Funders include the Office of the Governor of Erbil province in Iraq, the U.S. Embassy in Baghdad, the U.S. Department of State's Cultural Heritage Center, the Getty Foundation, the Andrew W. Mellon Foundation and the Bank of America. 
The program is administered by the University of Delaware's Institute for Global Studies (IGS) with professional support from the University's Department of Art Conservation. Such teamwork is rare, especially in projects that involve international cultural heritage conservation.
To read more about IICAH, see this recent article in the UD Global magazine. To learn about the day-to-day activities of IICAH, visit it on Facebook.
Article by Fariba Amini