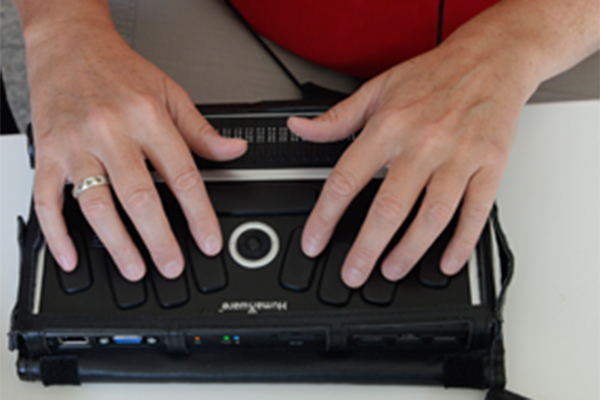 CDS receives FCC funding
iCanConnect to fund communications equipment for deaf-blind individuals
1:37 p.m., Nov. 16, 2012--The Center for Disabilities Studies (CDS) at the University of Delaware has announced the launch of iCanConnect Delaware. The program was established by the Federal Communications Commission (FCC) to distribute a wide array of assistive technology to people who are deaf-blind and require special equipment to make a phone call, send an email or access the Internet. 
This underserved population has, until now, largely been denied the opportunity to enjoy the full benefits that communications equipment and technology can provide. 
From graduates, faculty
As it neared time for the processional to open the University of Delaware Commencement ceremonies, graduating students and faculty members shared their feelings about what the event means to them.
Doctoral hooding
It was a day of triumph, cheers and collective relief as more than 160 students from 21 nations participated in the University of Delaware's Doctoral Hooding Convocation held Friday morning on The Green.
The FCC selected and funded entities in 50 states plus the District of Columbia, Puerto Rico and the Virgin Islands for the iCanConnect program. This agency is mandated by the Twenty-First Century Communications and Video Accessibility Act (CVAA) to provide funding for local deaf-blind programs. 
"Access to telecommunications is essential in today's world to track down information, stay connected with one another, and maintain our safety. By the very nature of their disability, people with dual sensory impairments — involving both vision and hearing — have difficulty using traditional telecommunications equipment that relies heavily on those two senses," CDS Director Beth Mineo pointed out.
Working in conjunction with the FCC, the Perkins School for the Blind and the Helen Keller National Center for Deaf-Blind Youth and Adults (HKNC), CDS will connect people in Delaware who are deaf-blind with the proper equipment and training on how to utilize it. The iCanConnect Delaware program will provide a wide range of hardware, software and applications to suit the varying communications technology needs of people who have hearing and vision loss.
Examples of people who can benefit from iCanConnect Delaware include:
A recent college graduate who is deaf-blind and wants to use Monster.com to search for a job; 
A young girl with combined hearing and vision loss who wants to use Skype to connect via sign language with her grandmother;
A man who has lost sight and hearing as a result of aging and wants to email and Facebook to reconnect with friends and family.
Any individual who meets the definition of deaf-blindness in the HKNC Act and has an income that does not exceed 400 percent of the federal poverty level can qualify to receive telephone, advanced communications and information services equipment.
Those who know someone who might benefit from the iCanConnect Delaware program can contact Sonja Rathel at the Center for Disabilities Studies, 302-856-1081, 800-870-3284 or rathel@udel.edu. They can also visit the website, www.iCanConnect.org, or call 1-800-825-4595.
CDS partnered with the Delaware Division for the Visually Impaired and the Delaware Statewide Programs for the Deaf, Hard of Hearing and Deaf-Blind to apply for the funding for this program, which totaled $69,696 for the first year of the program (July 1 through June 30, 2013). 
The center has primary oversight and responsibility for compliance with program requirements for Delaware. Its partners will provide related services, including local outreach, individual assessments and training, and the installation and maintenance of equipment needed to access the communications services covered by the CVAA.
The Center for Disabilities Studies at the University of Delaware supports the well-being, inclusion and empowerment of people with disabilities and their families. The mission of the center is to enhance the lives of individuals and families through education, prevention, service and research related to disabilities. CDS promotes independence and productivity so individuals and families can fully participate in the life of their communities in Delaware and beyond. For further information, visit www.udel.edu/cds or call 302-831-6974.
Article by Michele Sands
Image courtesy of iCanConnect