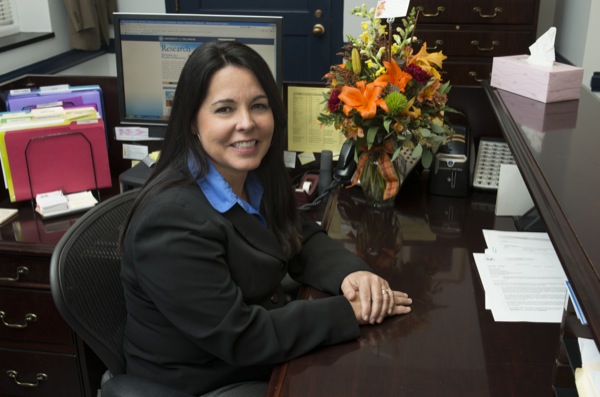 HR Liaison of Quarter
Research Office's Pothier named HR Liaison of the Quarter
11:33 a.m., Nov. 5, 2012--Eileen Pothier, an administrative assistant in the Research Office, has been named the University of Delaware Human Resources Liaison of the Quarter for the third quarter of 2012.
Liaison of the Quarter honors are given to exemplary members of the University's Human Resources team.
June 6: UDid It! Picnic
All UD faculty and staff members are invited to attend the annual UDid It! employee appreciation picnic, set from 11 a.m.-1:30 p.m., Monday, June 6, on The Green.
2FA protects you
If you are using two-factor authentication (2FA), even if a hacker has your password, your information is probably safe.
Charles Riordan, vice provost for research, cited Pothier's high level of professionalism and her proactive approach in communicating information to the office through her role as HR liaison. 
"Eileen welcomes new challenges and consistently steps up by identifying opportunities and adding new responsibilities to her portfolio," Riordan said. "We also recognize that Eileen's customer service skills are outstanding."
Trudy Riley, assistant provost for research administration, said that Pothier considers nothing to be outside of her job description and is willing to take on any assignment.
"Eileen takes ownership of any task requested of her, and if she cannot complete the task on her own, she reaches out to the appropriate colleagues within the Research Office or to other central UD offices to accomplish the task in the requested timeframe," Riley said. "Being accountable to complete work on time and to the best of her ability is a quality that others in the Research Office admire about Eileen."
Being named liaison of the quarter came as a pleasant surprise, Pothier said.
"I thoroughly enjoy working with my colleagues in the Research Office and in Human Resources," Pothier said. "I am so very grateful for the guidance received from my colleagues in Human Resources." 
Article by Jerry Rhodes
Photo by Kathy F. Atkinson