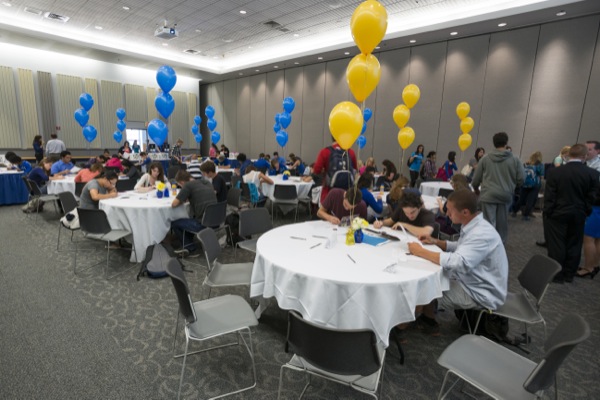 Grateful scholars
Gratitude Gala is an opportunity for students to thank UD scholarship donors
8:33 a.m., Nov. 5, 2012--To receive a college scholarship is a rewarding — and often life-changing — experience, and one for which most students are extremely grateful. Once on campus, though, the busy life of a college student can make it easy to forget that generous gifts are what made that scholarship possible.
On Wednesday, Oct. 24, approximately 600 University of Delaware students packed into the Trabant University Center to show that they had not forgotten and that they are, in fact, very grateful. Gathering for the annual Gratitude Gala, sponsored by the Office of Development, the students came together to thank the individuals, corporations and organizations whose dedication to undergraduate scholarships has made a difference in the lives of UD students. 
From graduates, faculty
As it neared time for the processional to open the University of Delaware Commencement ceremonies, graduating students and faculty members shared their feelings about what the event means to them.
Doctoral hooding
It was a day of triumph, cheers and collective relief as more than 160 students from 21 nations participated in the University of Delaware's Doctoral Hooding Convocation held Friday morning on The Green.
Not only do scholarships ease financial strain but they recognize academic and athletic excellence and allow students to enhance their education outside the classroom.
At the gala, students harnessed the often underestimated power of a simple handwritten thank you note to express their appreciation.
Students were given the chance to learn about the scholarship they received and the donors behind the fund. They then conveyed their gratitude to that donor through a thank you card. Included in the cards mailed to donors will be a photograph of each student recipient, adding an even greater personal touch. 
Emily Nowak, a sophomore nursing student, said receiving the Wilmer and Clara Stradley Scholarship has allowed her to pursue an education at UD. "I really do appreciate the opportunities this scholarship has given me at UD. I want to thank them [my scholarship donors] for making a difference in my life and making it possible for me to make a difference in the lives of others."
For junior public policy major and Honors Program student Neil Kirschling, being named a Eugene du Pont Scholar has meant the difference between focusing on academics and putting work and a paycheck first. "My scholarship lets me focus on classes and academics. It has helped my family and me personally. To not have that financial burden – it means a lot."
Karen Aniunas, director of donor relations and special events, highlighted the importance of the Gratitude Gala. "All too often it can be easy to forget that there are real people who made generous gifts to make these scholarships possible. It's important that students take a moment to express their gratitude and create a connection to the person who contributed to his or her path to success at UD."
Realizing the impact a scholarship can have on a student's UD experience has made several students at the gala recognize the importance of continuing to contribute to the University after graduation. 
Senior Erin Quinn has received the Ross Mayhew Scholarship for her work in both the journalism program at UD and on the student-run newspaper, The Review. 
"I've never really thought about the alumni and friends that give back to the journalism department. It's a small program and their generosity has such an impact on the program. I want to have that same connection to the program when I'm an alumnus," said Quinn, an Honors Program student.
Like Quinn, other students were equally impacted by the sentiment of the Gratitude Gala.
"To take the time to thank them [my scholarship donors] has opened my eyes," said senior criminal justice major and member of the UD football team Robert (Bobby) Kennedy, who is a 2012 recipient of the Vincent L. Mayer Scholarship.  "Without them I wouldn't be here. When I'm in the position to give back, I will, because I want to give someone else the same opportunity to succeed that I was given."
Article by Amanda Rominiecki
Photo by Evan Krape