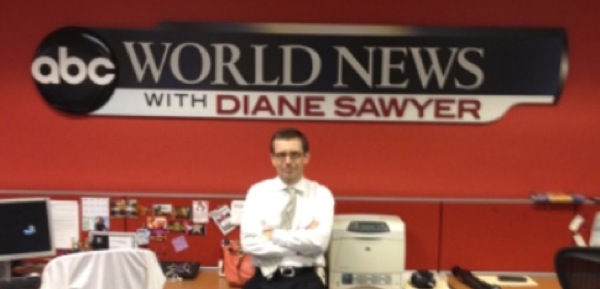 Medicine and the media
Physician shares experiences from ABC News medical desk
1:19 p.m., Nov. 7, 2012--Bruce Geryk, a fifth-year resident in neurosurgery at the University of North Carolina, visited the University of Delaware on Monday, Nov. 5, to share his experience working at the ABC News medical desk in New York.
His lecture, "Medical Perspectives on the Media," was sponsored by the Department of Behavioral Health and Nutrition.
'Resilience Engineering'
The University of Delaware's Nii Attoh-Okine recently published a new book with Cambridge University Press, "Resilience Engineering: Models and Analysis."
Reviresco June run
UD ROTC cadets will run from New York City to Miami this month to raise awareness about veterans' affairs.
Geryk recently spent a month on an elective rotation researching and producing stories for World News Tonight with Diane Sawyer, Good Morning America and the ABCNews.com health section. His stories covered topics ranging from AIDS and Alzheimer's to a new technology that translates eye movements into writing on a screen.
Geryk's experiences provided him with valuable insights into how news organizations approach the news, how stories develop, what's important to news organizations about stories, and how researchers can be in the news.
Although Geryk emphasized that his primary responsibility at ABC News was as a physician not a journalist, he had advice for writers as well as scientists. 
In reporting traditional news stories, where everyone has access to the same information about an event such as the release of a new drug, the key for news organizations is to differentiate themselves from their competitors with a unique angle or a relevant story about an individual patient.
With embargoed news, it's critical for the press to be ready to go when the embargo is lifted — and therefore equally critical for researchers to work with the press ahead of time if they want their perspective to be considered.
"Be responsive and keep it simple," Geryk advised.  "Also, keep it punchy — good quotes are a gold mine — and don't be afraid to offer a contrary viewpoint."
Geryk, who was not paid by ABC, spent time sifting through the hundreds of press releases the company received about health issues during his brief stint there.
Article by Diane Kukich