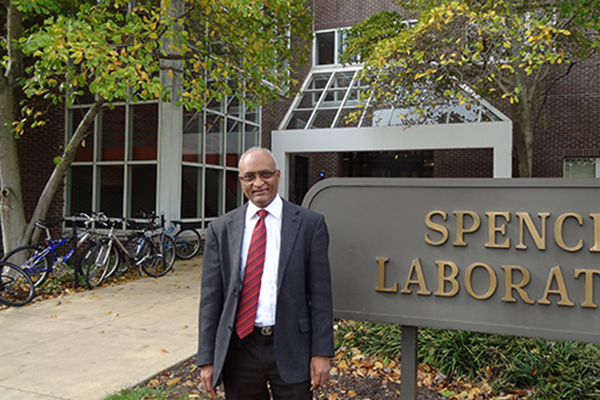 For the Record, Nov. 9, 2012
Campus community reports awards, presentations, service
1:33 p.m., Nov. 9, 2012--For the Record provides information about recent professional activities of University of Delaware faculty, staff, students and alumni.
Recent awards, presentations and service include the following:
From graduates, faculty
As it neared time for the processional to open the University of Delaware Commencement ceremonies, graduating students and faculty members shared their feelings about what the event means to them.
Doctoral hooding
It was a day of triumph, cheers and collective relief as more than 160 students from 21 nations participated in the University of Delaware's Doctoral Hooding Convocation held Friday morning on The Green.
Awards
Ralph Begleiter, Edward and Elizabeth Goodman Rosenberg Professor of Communication and director of the Center for Political Communication, will be presented a Tribute Award and deliver a keynote address at Common Cause Delaware's Good Government awards dinner to be held Thursday, Nov. 15, at the Christiana Hilton. Begleiter will be honored for his successful use of the Freedom of Information Act in 2004-05 to prompt public release of hundreds of photos taken by the U.S. government of fallen American soldiers returning home in flag-draped caskets. He will speak on the topic "Did Money Talk? Reflections on the Recent Election."
Don Tilmon, professor in the Department of Applied Economics and Statistics, has received the 2012 Meritorious Award for Distinguished Achievement from the College of the Ozarks where he earned his associate degree in 1963. Tilmon received his master's degree at the University of Delaware and later returned to UD, where he has worked for 34 years. He served as the Cooperative Extension farm management specialist and director of the Northeast Center for Risk Management Education, which was established at UD in 2001. It is one of four regional centers that conduct the Extension Risk Management Education Program. Tilmon provided leadership for developing the program while he was serving as the national program leader for risk management education, during one of three separate one-year Inter-Agency Personnel assignments at the U.S. Department of Agriculture. Tilmon also received a bachelor of science degree from the University of Missouri in 1965 and his doctorate from Purdue University in 1971. 
Larry J. Feldman, a 1994 graduate of UD, received the 2012 Community Award from the Maryland Network Against Domestic Violence during its annual meeting Nov. 2 in Linthicum, Md. Feldman was honored for providing pro bono legal services to battered women and for his work in training other attorneys in this area of the law. Feldman is a 15-year volunteer attorney and 10-year board member of CHANA, the Jewish Response to Domestic Violence, for which he represents victims of domestic violence at protective order hearings and in custody and divorce proceedings.  He has also volunteered his time for the House of Ruth, representing clients at protective order hearings at the North Avenue District Court in Baltimore.
Presentations
Margaret D. Stetz, Mae and Robert Carter Professor of Women's Studies and professor of humanities, was an invited speaker at a one-day symposium Nov. 2 on "Authorship" at the University of Iowa, sponsored by the journal Philological Quarterly and the Department of English at the University of Iowa. Her lecture "Exhibiting Authorship" addressed the growing public interest in objects associated with authors, especially as seen in recent library and museum exhibitions, even as e-books replace the physical book. The other three presenters were Alexander Gillespie (University of Toronto), Stephen Dobranski (Georgia State University), and Richard Strier (University of Chicago).
Ashley John Pigford, assistant professor in the Department of Art, and Tricia Treacy, founder of Pointed Press in Swarthmore, Pa., presented a paper, "Vista Sans Wood Type Project," and Martha Carothers, professor in the Department of Art, presented a paper, "An Alphabet of 26 Symbols," at Between Black and White ATypI 2012, the international typography conference organized by the Association Typographique Internationale. This year the annual conference was held in Hong Kong, Oct. 10-14.
Laurie Rizzo, assistant librarian, Special Collections Department, University of Delaware Library, presented "The History of Science Collection at the University of Delaware Library," Bolton Society at the Chemical Heritage Foundation, Oct. 11, in Philadelphia.
Swami Durgananda, registrar of Ramakrishna Mission Vivekananda University in West Bengal, India, delivered an invited talk on Indian religion on Friday, Nov. 2, in Purnell Hall. The talk, entitled "Harmony of Religions, Harmony of Differing Ideals, Harmony of Science and Spirituality," focused on the distinctions between spirituality and religion; the differences between mystic, mysterious, myth and mithya stories surrounding the nature of Indian spirituality and religion; and religion as a tool and the potency of Yoga. Durgananda earned his undergraduate degree in mechanical engineering at the Indian Institute of Technology (IIT) Bombay and his doctorate in mechanical engineering at Iowa State University. He returned to India to join the Ramakrishna Mission in 1997, where he currently serves as registrar.
Service
Paul Anderson, associate university librarian for administrative services, University of Delaware Library, was appointed as a member of the H.W. Wilson Library Staff Development Award Jury sponsored by the American Library Association (ALA).
To submit information to be included in For the Record, write to ud-ocm@udel.edu.