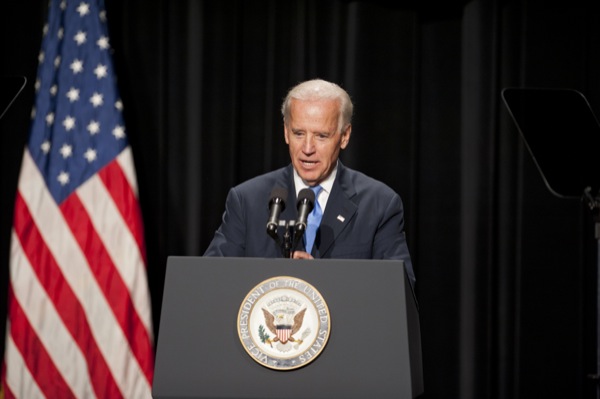 Winning ticket
UD alumnus Biden wins re-election as vice president of United States
10:49 a.m., Nov. 7, 2012--The University of Delaware has retained its title as the "epicenter" of national politics, playing a major role in Tuesday's presidential election outcome.
At the forefront, Vice President Joseph R. Biden, Jr., a UD alumnus, has been re-elected alongside President Barack Obama.
From graduates, faculty
As it neared time for the processional to open the University of Delaware Commencement ceremonies, graduating students and faculty members shared their feelings about what the event means to them.
Doctoral hooding
It was a day of triumph, cheers and collective relief as more than 160 students from 21 nations participated in the University of Delaware's Doctoral Hooding Convocation held Friday morning on The Green.
Biden received his bachelor's degree, a double major in history and political science, from UD in 1965 and an honorary degree in 2004.
His wife, Jill Biden, is a 1975 graduate who also received her doctorate in education from UD in 2006.
Through the first term she has worked to highlight the importance of community colleges, to raise awareness about the sacrifices made by military families, and to bring attention to women's health issues, including breast cancer. She was UD's Winter Commencement speaker in January 2010, at which time she was awarded an honorary doctorate.
The vice president has been actively engaged with UD throughout the first term, delivering a Constitution Day lecture in 2011 and donating his papers from his long tenure in the U.S. Senate to the University of Delaware Library. 
"The Constitution doesn't provide certainty," Biden said in delivering the James R. Soles Lecture on the Constitution and Citizenship last fall, adding that the founders knew they couldn't create a document that would settle all questions that might ever arise. "But they could be settled by the institutions to which the Constitution gave rise and power .… They built a framework for government that allowed many disparate voices to be heard." 
Political disagreements and, eventually, compromises have moved the nation forward throughout its history, Biden said, with the Constitution holding out the promise that every voice in a diverse society can be heard and blended together — "not always in harmony, but in unity." If Americans trust the process of government, he said, today's generation will successfully get through "this temporary period of political paralysis."
Biden's papers were received in June, with the vast collection being processed, preserved and housed in the University Library's Manuscripts and Archives Department.
Among the senior White House advisers is another UD alumnus, David Plouffe, who also played a central role in Obama's 2008 victory.
On the other side of the aisle, Republican strategist Steve Schmidt, a UD alumnus who was a senior strategist with John McCain's campaign in 2008, has been a fixture as a commentator in print and on television.
Plouffe and Schmidt will return to campus for a National Agenda presentation on the "Election Aftermath" on Wednesday evening, Nov. 14, in Mitchell Hall.
Fellow Republican and UD alumnus Chris Christie, governor of New Jersey, was also in the campaign mix as a speaker at the GOP convention. 
Christie and Schmidt both have been engaged with UD, delivering lectures and speaking on panels. Christie was featured in the 2011 National Agenda speaker series and delivered the Winter Commencement address earlier that year.
In 2010, Christie was inducted in the University's Alumni Wall of Fame, which recognizes UD graduates for outstanding professional and public service achievements. In 2003, he received the UD Presidential Citation for Outstanding Achievement Award.