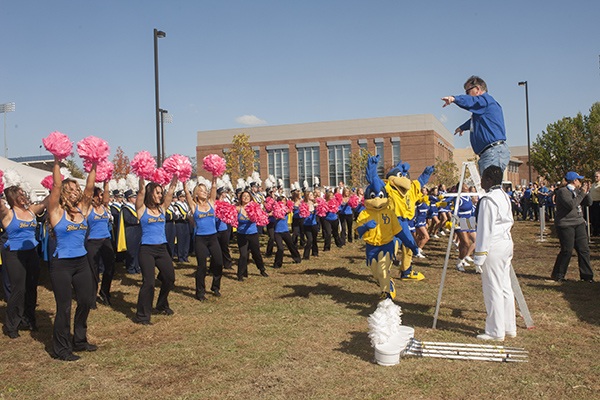 Bucket List ideas
University alumni, students asked to submit UD Bucket List ideas
9:52 a.m., Nov. 14, 2012--University of Delaware alumni and students are invited to submit ideas for the UD Bucket List, which features 60 UD traditions that students should experience before graduating.
The Bucket List is sponsored by the University's Student Alumni Ambassadors and the Office of Alumni Relations, and is a way for students and alumni to share UD traditions, stay connected with each other and build a common bond as "Blue Hens Forever."
'Resilience Engineering'
The University of Delaware's Nii Attoh-Okine recently published a new book with Cambridge University Press, "Resilience Engineering: Models and Analysis."
Reviresco June run
UD ROTC cadets will run from New York City to Miami this month to raise awareness about veterans' affairs.
Examples of Bucket List experiences UD students should have before they graduate and become alumni include possibilities such as: give YoUDee the mascot a hug, race friends up the stairs of Old College, ride the elevators of the Christiana Towers at least once, or attend a Homecoming football game.
Submit ideas online or email alumnet@udel.edu. 
Participants are asked to keep their suggestions appropriate and pertaining to the University. Submissions will be chosen at the discretion of the Office of Alumni Relations.
The UD Bucket List will be unveiled by the beginning of the 2013 spring semester. Check the alumni website in the spring for the link.
Once completed and launched, students and alumni will be able to access the UD Bucket List as an interactive website, through which they can check off the traditions they have completed, as well as add photos, quotes and comments. 
Photo by Duane Perry