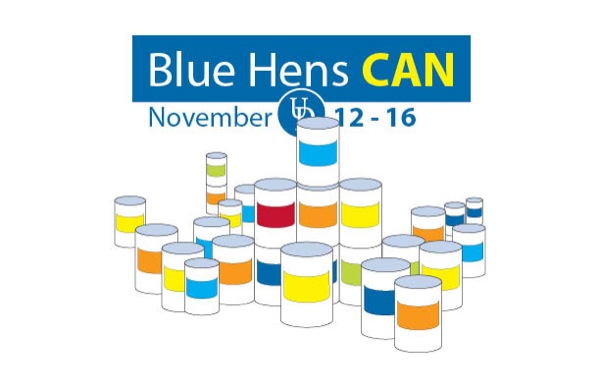 Blue Hens CAN
Occupational Therapy Club assists as Blue Hens CAN total grows
5:04 p.m., Nov. 14, 2012--The Blue Hens CAN unified campus food drive continued Wednesday at Mentors' Circle, with the total amount of items collected for the Food Bank of Delaware topping 1,600 pounds.
Blue Hens CAN is a joint venture of the University of Delaware's College of Health Sciences (CHS), the College of Agriculture and Natural Resources (CANR) and the Food Bank of Delaware.
From graduates, faculty
As it neared time for the processional to open the University of Delaware Commencement ceremonies, graduating students and faculty members shared their feelings about what the event means to them.
Doctoral hooding
It was a day of triumph, cheers and collective relief as more than 160 students from 21 nations participated in the University of Delaware's Doctoral Hooding Convocation held Friday morning on The Green.
It features a UD food collection bus parked at a different campus location each day of this week to accept items donated by the campus community and transport them to the Food Bank of Delaware at the end of the day.
The bus was parked at Mentors' Circle on Wednesday, Nov. 14, with members of the Occupational Therapy Club on hand to accept the donations.
The total on Tuesday came to 430 pounds of food donated, according to a representative of the Food Bank of Delaware, bringing the three-day total of donations to 1,639. 
Blue Hens CAN continues from 10 a.m.-2 p.m. on Thursday, Nov. 15, with the collection bus to be parked at the south campus next to the UDairy Creamery off South College Avenue.
Members of the Food Science Club will be on hand to collect donations.