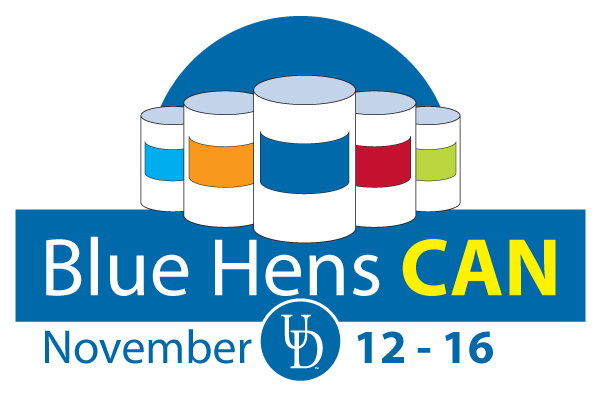 Blue Hens CAN
Unified campus food drive to benefit Food Bank of Delaware
9:21 a.m., Nov. 1, 2012--The University of Delaware and the Food Bank of Delaware will launch a weeklong campus-wide food drive called Blue Hens CAN from Monday, Nov. 12, through Friday, Nov. 16, to benefit those state residents who are straining to afford food.
Blue Hens CAN, a joint venture of the College of Health Sciences (CHS), the College of Agriculture and Natural Resources (CANR) and the Food Bank of Delaware, will feature a UD food collection bus parked at a different campus location each day of the week to accept items donated by the campus community. 
From graduates, faculty
As it neared time for the processional to open the University of Delaware Commencement ceremonies, graduating students and faculty members shared their feelings about what the event means to them.
Doctoral hooding
It was a day of triumph, cheers and collective relief as more than 160 students from 21 nations participated in the University of Delaware's Doctoral Hooding Convocation held Friday morning on The Green.
The bus will be parked at the following locations on the following days:
Monday, Nov. 12: Mentor's Circle, 9 a.m.-2 p.m.
Tuesday, Nov. 13: Laird Campus, between Smith and Independence halls, 10 a.m.-2 p.m. 
Wednesday, Nov. 14: Mentor's Circle, 10 a.m.-2 p.m. 
Thursday, Nov. 15: South Campus, next to the UDairy Creamery, 10 a.m.-2 p.m. 
Friday, Nov. 16: Mentor's Circle, 10 a.m.-2 p.m. 
University President Patrick Harker and Patricia Beebe, Food Bank of Delaware president and CEO, will be on hand to kick off the event during a ceremony at Mentor's Circle on Monday, Nov. 12, at 9 a.m. 
Said Harker of the event, "I know this active, engaged campus community — a community that lives the principle of service every day — can come together to help end hunger in Delaware. I'm thrilled that we're partnering with the Food Bank of Delaware — such a vital organization to so many families — and I'm excited to see the outcome of our efforts." 
"The support we have received from the University of Delaware community has been outstanding," said Beebe. "We are looking forward to a coordinated food drive amongst all members of the University in order to collect more food for Delawareans struggling to put meals on the table. We hope the excitement surrounding Blue Hens CAN will bring in not only food, but enthusiasm for helping to alleviate hunger in the First State."
There will be a raffle with prizes for individuals who donate items, with individuals who donate an item receiving a raffle ticket with a chance to win. 
Prizes include:
UDairy Creamery ice cream gift basket;
$100 iTunes gift card from UD's Apple Authorized Campus Store;
Wool blanket, made from wool of UD sheep, a $100 value; and
Ninety T-shirts donated by University Student Centers for the first 30 participants who come to each location. (For Mentor's Circle, the shirts will only be handed out on Monday). 
A separate competition for groups who enter items collectively will also be held. Groups are asked to submit their items together and label them clearly using the group's full name and not abbreviations. The items will then be taken and weighed at the Food Bank of Delaware. 
The group that donates the most food will win a free ice cream social from the UDairy Creamery ice cream team. 
For a list of items being accepted by the Food Bank of Delaware, click here.