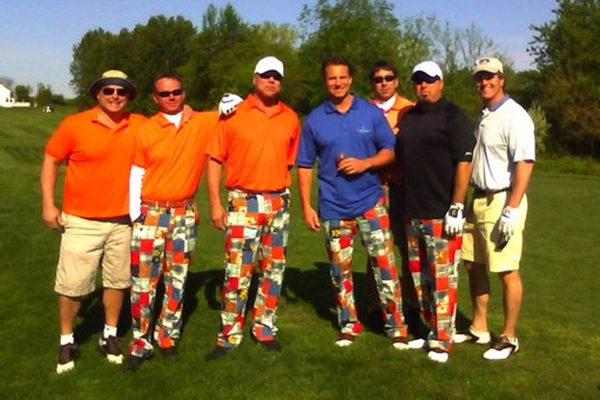 Ricky Barbour Memorial Scholarship
UD student receives scholarship in memory of UD alumnus
9:16 a.m., Nov. 16, 2012--Christopher Herbert, a junior political science major and legal studies minor, is the recipient of this year's Ricky Barbour Memorial Scholarship.
Herbert, who is a member of the University of Delaware men's lacrosse team, received a pleasant surprise when he checked his email and found out he had been awarded a scholarship to help with tuition. 
'Resilience Engineering'
The University of Delaware's Nii Attoh-Okine recently published a new book with Cambridge University Press, "Resilience Engineering: Models and Analysis."
Reviresco June run
UD ROTC cadets will run from New York City to Miami this month to raise awareness about veterans' affairs.
The scholarship is bestowed upon an upperclassman student-athlete majoring in political science and international relations or sociology and criminal justice with plans to pursue a law degree. 
"It has definitely helped a lot," said Herbert about the Ricky Barbour Scholarship. "With school and lacrosse, I don't have extra time for a job and the scholarship eases my mind and lets me focus on more important things." 
Herbert, who was red-shirted as a freshman, is a member of the University's Student Athlete Advisory Council. In accordance with the scholarship, Herbert also plans to attend law school after he graduates. 
About the scholarship
In 1991, UD graduate Rick Barbour was the victim of an armed robbery in Philadelphia, where he was killed. To honor his memory, Barbour's Delta Tau Delta brothers created the Ricky Barbour Memorial Scholarship Fund and an annual golf charity event to raise donations for the fund. 
"What started as a small group of guys getting together to remember our friend, has grown into a much anticipated, sold out annual golf event," said Michael Schlegel, UD liaison for the Ricky Barbour Scholarship Fund.
"We are really one of the only alumni groups who returns to campus every year to do an event like this in order to provide a scholarship. UD's development office has been instrumental in assisting us in making this endowment possible," added Patrick Armstrong, chairman of the scholarship board. 
When the scholarship fund was created in 2002, a surprise award was given directly to a graduating UD senior headed to law school. Due to the growing popularity of the golf event, the members of the Ricky Barbour Memorial Scholarship Fund have been able to work with the University of Delaware in order to create an official scholarship through Student Financial Services. 
The fund is currently building to a $50,000 endowment. A scholarship will be concurrently awarded each year until the $50,000 goal is achieved. 
The scholarship is awarded to an upperclassman with plans to attend law school after graduation, just like Barbour. 
"Basically, we are looking for somebody like Rick who was a well rounded and outgoing student. We are not looking for somebody who's getting a 4.0, we want somebody maintaining good grades while playing a varsity or club level sport," said Armstrong. 
How to get involved
"To date, our group has raised approximately half of our endowment goal of $50,000. The fund receives donations from local businesses, alumni and current UD students," said Schlegel. 
To make a donation, please visit the Ricky Barbour Scholarship donation page or the University of Delaware "make a gift" website and include "Ricky Barbour Scholarship" in the "other" box. For more information on the golf outing event, click here. 
Barbour's legacy continues to live on through a day on the course, a reunion of alumni and current students, a scholarship for Herbert and, of course, great memories. 
Article by Kelley Bregenzer