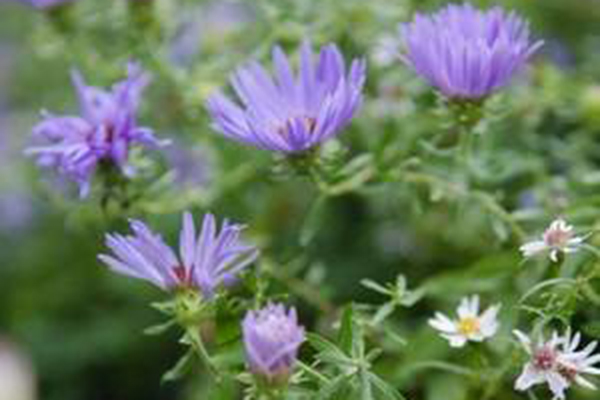 Native Delaware: Asters
Asters keep UD Botanic Gardens colorful through November
2:48 p.m., Nov. 7, 2012--Some of autumn's pleasures are fleeting. Like the sight of migrating broad-winged hawks soaring on thermals in the September skies. Like the golden leaves of the ginkgo, which drop from the tree in a few days or sometimes mere hours. Like the big, orange, once-a-year occurrence of the harvest moon.
But other autumn pleasures – like asters – endure all season long. Asters start blooming at the same time as such early fall wildflowers as goldenrod and thoroughwort. But long after many other blooms have turned brown, the aster is still going strong.
From graduates, faculty
As it neared time for the processional to open the University of Delaware Commencement ceremonies, graduating students and faculty members shared their feelings about what the event means to them.
Doctoral hooding
It was a day of triumph, cheers and collective relief as more than 160 students from 21 nations participated in the University of Delaware's Doctoral Hooding Convocation held Friday morning on The Green.
Of course, no one species of native aster blooms straight through from September to November. Most bloom for a few weeks and then, as they die off, other varieties began to flower. Some of the native varieties that bloom the latest include aromatic and heath asters.
"It's not unusual to see aromatic, heath and other species of asters blooming in late November," says Sue Barton, an ornamental horticulture specialist with University of Delaware Cooperative Extension. "Asters continue to add a splash of color to the landscape in late autumn, when little else is blooming in Delaware."
There are 33 native species and varieties of the genus Aster in Delaware, according to Bill McAvoy, a botanist with the Delaware Natural Heritage Program. Several of these varieties are classified as rare in the state. Asters are found in a wide range of habitat – woodlands, swamps, marshes, wet meadows and old fields. Some species are tall and bushy; others are groundcovers. Most prefer sunny conditions but some do well in shade. 
Asters are tough and reliable, which is why they are popular with both home gardeners and commercial landscapers. "Asters – both natives and non-natives – are some of the easiest perennials to grow," says Barton. "They don't require much watering, fertilizing or other care."
Doug Tallamy likes asters because they contribute to healthy local ecosystems. Asters are a valuable food source for a variety of pollinators, including native bees, honeybees, butterflies, beetles and flies, says Tallamy, chair of UD's Department of Entomology and Wildlife Ecology and author of Bringing Nature Home: How Native Plants Sustain Wildlife in Our Gardens.
"As one of the latest blooming widespread plants, asters are very important as a carbohydrate energy source for butterflies, bees, beetles and flies," says Tallamy.
If you're looking for a good aster to plant in Delaware you couldn't do better than talking to Jeanne Frett, a research horticulturalist at Mt. Cuba Center. A few years ago she conducted a performance evaluation of asters in conjunction with Victor Piatt, the center's former trial area gardener. 
The duo evaluated 56 different asters over a two-year period for such factors as color, bloom period, foliage quality, disease resistance and more.
Varieties that got top marks include smooth aster, prairie aster and calico aster. A late bloomer that scored well is the large-flowered aster. Some years, this aster may start in mid-October and finish by Halloween. Other seasons, it doesn't flower until mid-November and then continues blooming past Thanksgiving. 
You can see these varieties of asters – any many more – at Mt. Cuba. Public garden tours are held Thursdays through Sundays; registration is necessary. The University of Delaware Botanic Gardens also has a great selection of asters. Late bloomers there include Aster oblongifolius "Raydon's Favorite," a showy variety that sports a profusion of blue-lavender flowers with yellow centers.
Mt. Cuba Center is located at 3120 Barley Mill Road in Hockessin. For more information, call 239-4244.
The University of Delaware Botanic Gardens is located on the grounds of Townsend Hall off South College Avenue in Newark. The garden is open dawn to dusk daily and is free of charge. Parking is available at meters or by purchasing a parking permit for $3 online. To learn more, call 831-0153.
Article by Margo McDonough
Photo by Danielle Quigley