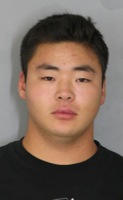 Robbery arrest
Newark Police arrest man for second degree robbery
6:31 p.m., Nov. 1, 2012--Newark Police have arrested Kevin J. Rice, a 22-year-old University of Delaware student, for second degree robbery after an early morning incident Sunday, Oct. 28, on East Main Street. 
Around 2:15 a.m., a 22-year-old UD student was walking on the sidewalk in the 100 block of East Main Street, wearing a UD ice hockey sweatshirt displaying the number 10. Rice, who was traveling in a vehicle on East Main Street, is a UD hockey player who wears the number 10, and his sweatshirt went missing about a year ago. When Rice saw the victim wearing the sweatshirt, he left the vehicle, confronted the victim and tried to remove the sweatshirt. A physical altercation ensued, which was broken up by two of Rice's acquaintances. Rice and his two acquaintances then got into the vehicle and left. After the altercation, the victim discovered that his cell phone was missing. 
June 6: UDid It! Picnic
All UD faculty and staff members are invited to attend the annual UDid It! employee appreciation picnic, set from 11 a.m.-1:30 p.m., Monday, June 6, on The Green.
2FA protects you
If you are using two-factor authentication (2FA), even if a hacker has your password, your information is probably safe.
Using computer software, police officers were able to track the location of the phone, which led them to the area of Harmony Road and Route 273, where they located Rice in a vehicle. He was taken into custody without incident and found to be in possession of the victim's cell phone.
The victim sustained facial swelling but declined medical treatment.
Rice, who is from North Wales, Pa., was charged with one count of second degree robbery and released on $5,000 unsecured bond.
Anyone with additional information is asked to contact Cpl. Marc DiFrancesco at 302-366-7110, ext. 402 or marc.difrancesco@cj.state.de.us. Anonymous tips can be texted to 302NPD, with the message to TIP411. Information also can be provided anonymously to Crime Stoppers at 1-800-TIP-3333 or www.tipsubmit.com, where a reward may be available.