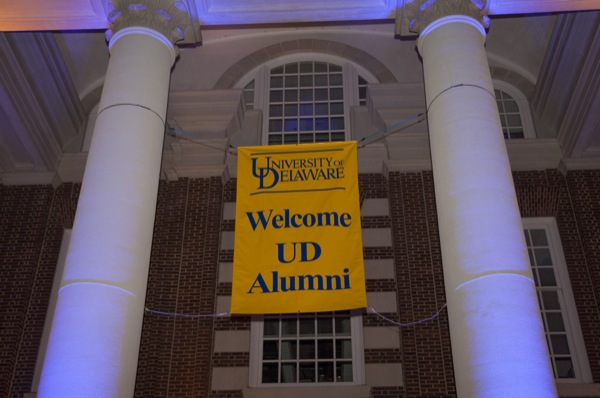 Alumni Weekend events
University groups encouraged to hold events during Alumni Weekend 2013
9:03 a.m., Nov. 9, 2012--The University of Delaware Office of Alumni Relations invites the seven colleges, as well as all departments and affinity groups, to participate in Alumni Weekend 2013 and help engage the thousands of alumni who return to campus for the event.
Alumni Weekend 2013 will be held May 31 to June 2 on UD's Newark campus.
'Resilience Engineering'
The University of Delaware's Nii Attoh-Okine recently published a new book with Cambridge University Press, "Resilience Engineering: Models and Analysis."
Reviresco June run
UD ROTC cadets will run from New York City to Miami this month to raise awareness about veterans' affairs.
Held annually on the first weekend after Commencement, Alumni Weekend, now in its fifth year, is a tradition that is growing in popularity and in size.
The weekend is a time for alumni, friends and family to return to campus, reconnect with friends and faculty, witness the University's remarkable growth and advancements and celebrate the qualities that make UD unique.
The Office of Alumni Relations would like to help colleges, departments, affinity groups, registered student organization (RSO) alumni associations and other UD groups that wish to host events during Alumni Weekend 2013. If interested, contact Tricia Reilly, Alumni Weekend event coordinator, at 302-831-7034 or tfitz@udel.edu. 
The seven colleges traditionally host receptions during Alumni Weekend, at which alumni can witness new and exciting initiatives within the colleges, reunite with faculty and staff and learn more about the advancements being made within the colleges.
Other programs are hosted throughout the weekend or can be built into existing events. For example, at Alumni Weekend 2012 the Greek Alumni Association and LGBT Caucus/HAVEN opted to have special seating areas at the Blue Hen Brunch on The Green. Other departments opted to move their annual events to Alumni Weekend; for example, the College of Education and Human Development held its third annual Jane Davidson Forum on Play during the weekend. 
A representative said the Office of Alumni Relations thanks the following units that held new events during Alumni Weekend 2012: Club Sports, Office of Admissions, Black Alumni Organization, Department of Physical Therapy, College of Agriculture and Natural Resources, Venture Development Center, College of Education and Human Development, College of Arts and Sciences, Institute for Global Studies, Interdisciplinary Science and Engineering Lab, Hillel, UD Wesley Foundation, Horticulture Club, the University Student Theatre Alumni Reunion (U-STAR) groups, and many others.
For more information about Alumni Weekend 2013, visit the website.
Photo by Ambre Alexander