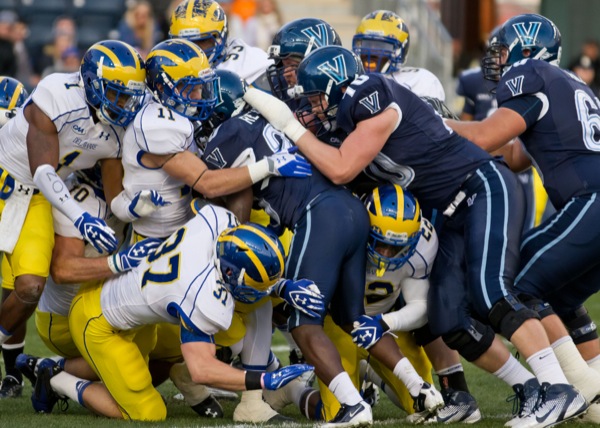 Alumni activities
UD, Villanova alumni to join hands at Philabundance event
12:11 p.m., Nov. 16, 2012--Often rivals in athletics, alumni of the University of Delaware and Villanova University will put aside their differences to work together to battle hunger across the Delaware Valley.
Alumni from the two universities will join hands to pack food for the needy during a Philabundance event to be held at 8:30 a.m., Saturday, Dec. 1, at the Philabundance Food Warehouse, 302 W. Berks St., Philadelphia.
'Resilience Engineering'
The University of Delaware's Nii Attoh-Okine recently published a new book with Cambridge University Press, "Resilience Engineering: Models and Analysis."
Reviresco June run
UD ROTC cadets will run from New York City to Miami this month to raise awareness about veterans' affairs.
Alumni will roll up their sleeves to pack boxes of nonperishable food items that are donated to senior adults and families in need. The work is physically demanding. The event is open for children above the age of 14 and they must be accompanied by a parent.
Those who attend are encouraged to wear Delaware Blue and Gold, and also to bring a donation. See the Philabundance website for more information about what donations are needed.
Registration is requested for planning purposes, and can be completed at the UD Alumni website.
Other UD alumni activities are scheduled as follows:
Thursday, Nov. 29, 11:30 a.m.: CHS dean to speak in Lancaster, Pa. Kathy Matt, a UD alumna and dean of the College of Health Sciences, will speak at a luncheon presentation in Lancaster, Pa. She will discuss advancements being made by the college and UD.
Monday, Dec. 3, 7 p.m.: UD CEOE reception at American Geophysical Union conference. Blue Hens will gather at the 2012 American Geophysical Union conference in San Francisco for a reception and celebration as UD's George Luther, Maxwell P. and Mildred H. Harrington Professor of Oceanography in the College of Earth, Ocean, and Environment, is honored as an AGU Fellow. The reception is open to alumni, faculty, staff, students and friends of UD.
Thursday, Dec. 6, 6:30 p.m.: DC Alumni Club holiday party. UD alumni are invited to celebrate the holiday season with food, drinks and more with fellow Blue Hens at Tabaq Bistro in Washington, D.C.
Monday, Dec. 10, 5:30 p.m.: Holiday decorating party at St. Michael's School in Wilmington. The New Castle County Alumni Club invites Blue Hens for a supper and holiday decorating party at St. Michael's School in Wilmington. Participants will decorate for Christmas, Hanukkah and Kwanzaa.
Saturday, Dec. 15, 8 a.m.: DC Alumni Club with Wreaths Across America. The University's alumni club in Washington, D.C., is supporting the Capital Alumni Network's partnership with Wreaths Across America, placing wreaths on veteran's graves in Arlington National Cemetery during the holiday season.
Saturday, Dec. 15, 9 a.m.: Breakfast with Santa. Alumni are invited to the third annual Breakfast with Santa at UD's Clayton Hall. The event will feature face painting, a buffet breakfast, balloon animals and a visit by Santa Claus.
The Office of Alumni Relations recognizes and thanks the UD Alumni Association for its support of some of these events.
Photo by Mark Campbell