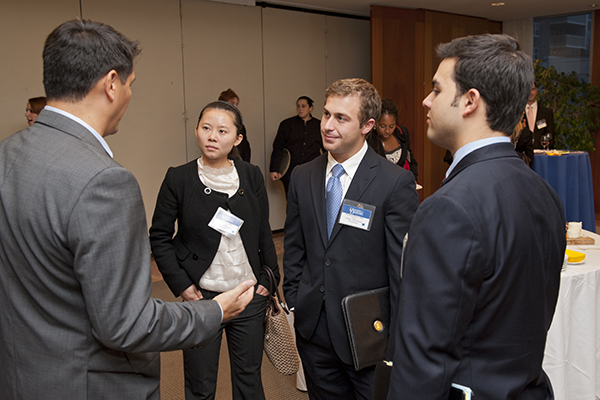 Alumni activities
UD Conversation and Connections event set in New York City
7:55 a.m., Nov. 2, 2012--University of Delaware alumni are invited to a Conversation and Connections event to be held at 6 p.m., Thursday, Nov. 15, at 388 Greenwich Street in New York City.
The second annual event, sponsored by the New York City Alumni Club and hosted at Citi, will provide alumni, students and friends of the University an opportunity to meet and learn from successful UD alumni and expand their professional networks. 
'Resilience Engineering'
The University of Delaware's Nii Attoh-Okine recently published a new book with Cambridge University Press, "Resilience Engineering: Models and Analysis."
Reviresco June run
UD ROTC cadets will run from New York City to Miami this month to raise awareness about veterans' affairs.
The evening's theme, "Lessons in Global Strategies," will feature an interactive discussion focused on the ever-increasing importance of engaging in worldwide business and communications across all industries.
UD alumnus Kenneth Whitney, senior managing director at Blackstone, will speak on "Alternative Investments and Expectations for Returns in the Near Future."
Also, Jose A. Aviles, director of admissions, will discuss his role and address current University topics.
For details, see the UDconnection site.
Other activities are as follows:
Friday, Nov. 9, 5:30 p.m.: Boston Celtics basketball. The Boston Alumni Club will sponsor an event at TD Garden as the Boston Celtics take on the Philadelphia 76ers in an NBA game.
Saturday, Nov. 10, 1:30 p.m.: Richmond tailgate. The Richmond Alumni Club will hold its second annual tailgate as the Blue Hens football team takes on the University of Richmond.
Sunday, Nov. 11, 9:30 a.m.: Miami Dolphins football. Blue Hens will convene at Sun Life Stadium for a Miami Dolphins game and a special tailgate in an event sponsored by the South Florida Alumni Club.
Wednesday, Nov. 14, 5:30 p.m.: Traditional, New, and Technical Art Histories at the Red and White Monasteries. Alumni are invited to attend this free lecture, hosted by the Friends of Art History on the University's Newark campus.
Wednesday, Nov. 14, 5:30 p.m.: UD alumni happy hour in Wilmington. Blue Hens will get together at Famous Tim's on Lovering Avenue in Wilmington for discounted drinks, free pizza and good times.
Monday, Nov. 19, 4:30 p.m.: President's Leadership Series Inaugural Lecture. Alumni are invited to join the UD community on the Newark campus for the President's Leadership Series Inaugural Lecture to be given by Thomas Connelly Jr., executive vice president and chief innovation officer at DuPont.
Monday, Dec. 3, 7 p.m.: UD CEOE reception at American Geophysical Union conference. Blue Hens will gather at the 2012 American Geophysical Union conference in San Francisco for a reception and celebration as UD's George Luther, Maxwell P. and Mildred H. Harrington Professor of Oceanography in the College of Earth, Ocean, and Environment, is honored as an AGU Fellow. The reception is open to alumni, faculty, staff, students and friends of UD.
Thursday, Dec. 6, 5:30 p.m.: Holiday decorating party at St. Michael's School in Wilmington. The New Castle County Alumni Club invites Blue Hens for a supper and holiday decorating party at St. Michael's School in Wilmington.
The Office of Alumni Relations recognizes and thanks the UD Alumni Association for its support of some of these events.
Photo by Evan Krape