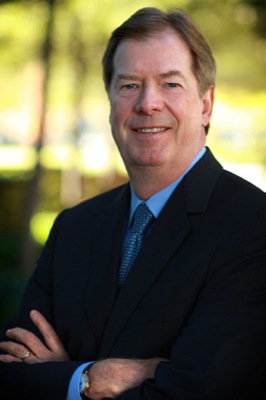 Commencement address
USOC chairman to speak at UD Winter Commencement Jan. 6
2:40 p.m., Nov. 30, 2012--Lawrence F. Probst III, chairman of the U.S. Olympic Committee (USOC) and a University of Delaware alumnus, will speak at the University's Winter Commencement, scheduled at 2 p.m., Sunday, Jan. 6, in the Bob Carpenter Sports/Convocations Center.
Winter Commencement, for students who complete their degree requirements in August and December, traditionally features a distinguished UD graduate as speaker.
From graduates, faculty
As it neared time for the processional to open the University of Delaware Commencement ceremonies, graduating students and faculty members shared their feelings about what the event means to them.
Doctoral hooding
It was a day of triumph, cheers and collective relief as more than 160 students from 21 nations participated in the University of Delaware's Doctoral Hooding Convocation held Friday morning on The Green.
Probst, who earned his bachelor's degree in business administration at UD, was elected chairman of the USOC in  2008. He also serves on the International Olympic Committee's International Relations Commission. 
In addition, he chairs the board of directors of Electronic Arts (EA), the world's leading developer and publisher of interactive entertainment.  He joined EA in 1984 and has held several positions there, including vice president, president and CEO.
Under Probst, EA navigated multiple technology transitions and made strategic investments in new platforms such as mobile, online and other emerging markets. During his tenure as CEO, the company grew its annual revenue from $175 million in 1992 to roughly $3 billion in 2006, and expanded international operations to more than 75 countries.
Before joining EA, he was a national sales manager at Activision Inc. and a national accounts manager at Clorox. 
He and his wife, Nancy, have two sons, Scott and Chip.
About the ceremony
Additional details about Winter Commencement has been mailed directly to degree candidates and their families.
Each degree candidate is entitled to a maximum of eight guest tickets, at no charge, which may be picked up now through Friday, Dec. 7, from the Registrar's Office in Room 137 of the University Visitors Center. Students must bring a photo ID. If more tickets are needed, degree candidates should request to be put on a waiting list for additional tickets, which will be distributed on a space-available basis. 
For more information on Winter Commencement activities, visit the special Winter Commencement webpage, send e-mail to commencement@udel.edu or call 302- 831-2113.