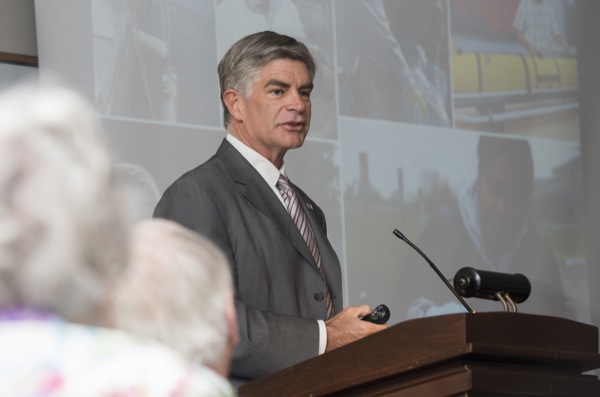 UDARF presentation
President Harker briefs retired UD faculty on 'State of University'
9:07 a.m., May 22, 2013--University of Delaware President Patrick Harker told a gathering of retired UD faculty that the institution faces new challenges in recruiting and retaining tomorrow's best students today.
Harker's remarks were part of a "State of the University" talk he gave to members of the University of Delaware Association of Retired Faculty at a luncheon meeting held Tuesday, May 14, in Clayton Hall. 
'Resilience Engineering'
The University of Delaware's Nii Attoh-Okine recently published a new book with Cambridge University Press, "Resilience Engineering: Models and Analysis."
Reviresco June run
UD ROTC cadets will run from New York City to Miami this month to raise awareness about veterans' affairs.
Progress on creating a more diverse campus community, as envisioned in UD's Path to Prominence strategic plan, also was discussed.
"This month marks the five-year anniversary of the unveiling of our Path to Prominence plan," Harker said. "Looking back, it's interesting to see how much the University community has accomplished in five years." 
Having a strategic plan, Harker said, enabled UD to move forward during a time when other colleges were experiencing difficulties due to severe economic challenges.
"Some would argue that a lot of colleges lost their 'true north' because they were struggling for survival," Harker said. "Our plan allowed us to get through a pretty bad time while keeping our principles intact."
Harker said that the first strategic milestone's charge to create a diverse and stimulating undergraduate environment at UD continues to spur the University's efforts to bring together a freshman class that more closely reflects the diversity of the region.
The University also faces challenges due to a declining pool of applicants in traditional recruiting areas, Harker said.
"We are entering a very different world," Harker said. "Our country is changing dramatically, and we are becoming a much more diverse nation."
Since 2008, Harker said, there has been a 56 percent increase in African American freshmen and a 27 percent increase in Hispanic students beginning their academic careers at UD.
Harker also noted that 22 percent of freshmen arriving this fall come from historically underrepresented groups, up from 19 percent the previous year, and there have been significant gains in the number of international students. 
"If we don't become a more inclusive and welcoming place, we're going to have to shrink," Harker said. "This means that we have to be inclusive in terms of geography and ethnicity." 
Equally important to creating a more diverse UD community, Harker said, is making sure that students have every opportunity to be successful once they arrive. 
Recent initiatives, Harker noted, include forming a central group to get better data in terms of what is and isn't working and benchmarking UD efforts to see how they measure up against programs nationally.  
Harker also cited the Student Success and Retention Conference held in September 2012 and which featured Freeman Hrawbowski III, president of the University of Maryland Baltimore County, and Vincent Tinto, a Syracuse University professor who has written extensively on student success. 
"We need to make sure that we are coordinated across the University, so that our students get to achieve their goals," Harker said. "We need to make sure we have enough flexibility to not just admit students into a major, but to make sure that there is room for them to move around within it."
Adhering to Path to Prominence guiding principles also means investing in new programs that spur students' intellectual passion and curiosity while not getting in the way of the paths they want to take.
"Our students are amazing with the kinds of stuff that they put together, and it is usually our best students who do this," Harker said. "We need to make sure that we are supporting them in that area."  
A keyword for today's students is "interdisciplinary," and that's the hallmark of programs in environmental studies, ecology, international business, cognitive science, speech pathology, political communications and engineering.
"Biomedical engineering at UD has gone from 0-60 in 3.2 seconds, and it's completely filled," Harker said. "This is an example of the kind of programs that we need to continue to offer in order to attract the very best students." 
Creating a physical plant that meets this passion for interdisciplinary and problem-based learning is the Interdisciplinary Science and Engineering Laboratory (ISE Lab) opening this summer, Harker said.
"We will start teaching there in our new 'temple of problem-based-learning' this fall," Harker said. "This is really going to be a game changer for the University."
Article by Jerry Rhodes
Photo by Kathy F. Atkinson