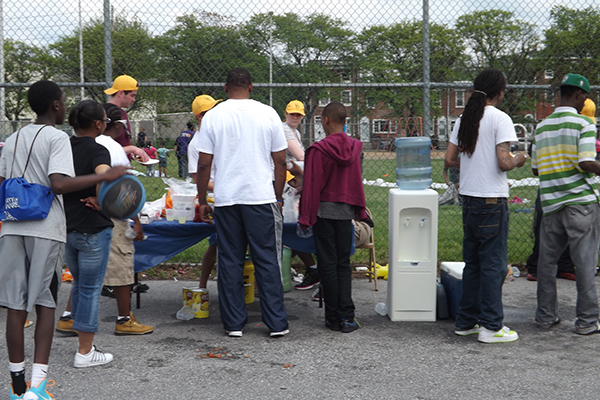 Community outreach
Students spend time in Wilmington as part of outreach class
2:41 p.m., May 24, 2013--In Wilmington, a group of University of Delaware students are known by their headwear. 
"The yellow hats are here!" one little boy exclaimed to his mother on the phone, a beaming smile stretched across his face. 
'Resilience Engineering'
The University of Delaware's Nii Attoh-Okine recently published a new book with Cambridge University Press, "Resilience Engineering: Models and Analysis."
Reviresco June run
UD ROTC cadets will run from New York City to Miami this month to raise awareness about veterans' affairs.
Zephi Francis, a first-year graduate student and teaching assistant for UD's Youth Street Outreach course, remembers this moment clearly as he reflects on a semester of service. 
On a weekly basis, students enrolled in Youth Street Outreach, a class cross-listed in sociology, criminal justice, Black American studies and urban policy, donned yellow caps and headed to Wilmington to assist the local community in any way they could.
"People know the yellow hats when we show up in the community," said Francis. "They recognize that we are there to do good." 
The course — which counts as a discovery learning credit — introduces UD students into the Wilmington community, exposing misconceptions and fostering relationships. 
Mondays through Thursdays, UD students volunteered in afterschool programs at Bancroft Elementary School, Frederick Douglass Stubbs Elementary School and the Walnut Street YMCA, all in Wilmington. 
The yellow hats did everything from help with homework to serve snacks 
"We were there to serve as positive role models in their lives," said Francis. 
On weekends, the yellow hats went out in the community to pass out flyers, stop by local parks to play with children, spread information about summer camps, medical clinics and fitness classes and develop relationships with community members of all ages. 
The course began six years ago with a transformation grant from the College of Arts and Sciences, according to Lana Harrison, professor of sociology. 
The course has continued to evolve since its creation, said Harrison. Students are asked to volunteer one weekday each week, in addition to a Saturday or Sunday. For the first time this year, students also volunteered in after-school programs. 
"The class is supposed to be 'transformative' and it lives up to that name," said Harrison, noting how she saw students' maturation reflected in their final papers. 
'Win-win' scenario
Both Francis and Harrison agreed the course has had a lasting impact on UD students and the Wilmington community. 
Over years of service, the yellow hats have garnered trust and built relationships with Wilmington residents. 
"The University of Delaware has a lot of resources to offer our neighbors in Wilmington," said Francis. "One of the biggest resources is our student population."
The yellow hats offered information about the University to students, describing the residence hall experience and offering advice on student loans and available classes. 
"It teaches you how to communicate with people who are not necessarily like you," said Francis. "It teaches you how to engage with the community and to identify needs in the community." 
Colean Farmer, a resident of Wilmington, echoed the notion of a mutually beneficial relationship between the UD students and the community.
"The yellow hats have made a big impact on the community. This is the first year they have also worked with children in afterschool programs," she said. "The UD students also have an opportunity to learn about the environment inner-city youth reside in."
The semester culminated in two big events. On May 11, the yellow hats hosted Eastside Pride Day at Bancroft Elementary School. Adults and children from the community were invited to enjoy food, partake in an ultimate basketball tournament and play games. The yellow hats also created a 100-foot slip and slide and organized free hair cuts with the help of a local barber. 
On May 15, the yellow hats highlighted the work they had done throughout the semester at a closing ceremony. The ceremony was also a chance to present Wilmington residents and afterschool officials with awards. 
For many of the yellow hats, the course concluded with more than a final grade.
"When people are being receptive to you, you feel like you're doing good work," said Francis. "It was definitely a non-traditional class." 
Article by Kelley Bregenzer