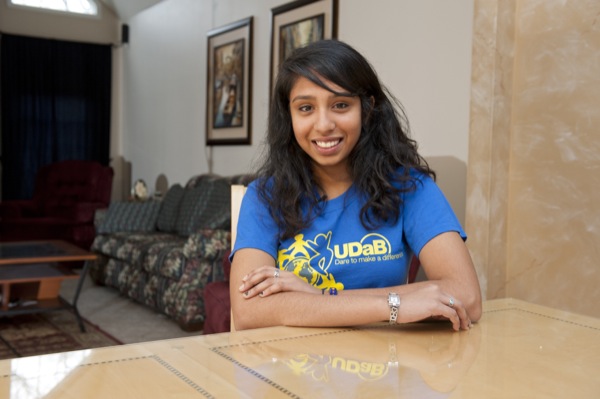 Research Down Under
UD senior investigates spinal disc herniation, failure
1:43 p.m., May 2, 2013--Kangaroos, spinal cords and robots — what's not to like about Australia? 
University of Delaware mechanical engineering senior Dhara Amin is getting ready to spend a year Down Under to conduct research on spinal disc herniation at Flinders University in Adelaide, Australia.
Fulbright awards
Three University of Delaware students and an alumna have received word this spring that they will travel abroad as part of the newest class of Fulbright Student Program award winners.
Peace Corps plans
Two University of Delaware students, John McCarron and Bridgette Spritz, have been selected as Peace Corps volunteers and will serve in Ghana and Rwanda.
Herniation occurs when the fibrocartilage, a weight-dispersing cushion extending through the center of the spinal discs, ruptures. According to Amin, lower back pain affects over 70 percent of people during their lifetime and is the fifth most common reason people seek medical care. It often develops from work activities that involve repetitive lifting or loading.
Amin will assist John Costi, senior lecturer of biomechanics research at Flinders University, with his research examining the failure mechanisms, or internal strains, that lead up to disc herniation. 
Using a novel device designed by Costi called a hexapod robot, the team will simulate six loading conditions including tension and compression and bending. The researchers will repeatedly subject lumbar spine segments to motion and loading in order to identify specific repetitive movements that cause the greatest strain to spinal tissues. Sensors embedded in the discs prior to the simulation will measure internal tissue strains and yield a 3D model of the disc segments for further analysis.
"We hope to identify early indicators of herniation, which could help prevent and treat such injuries in a clinical setting," Amin explained. 
Amin first became involved with spinal disc research in 2011 when she began collaborating with Dawn Elliott, director of the Biomedical Engineering Program, and Brent Showalter, doctoral candidate, in UD's spine biomechanics research lab. The team tests the repetitive motion and loading mechanics of spines that have undergone a nucleotomy to simulate a herniation and following a new implant treatment to replace the lost tissue.
After learning about Costi's research at Flinders from Elliott, Amin applied and was accepted into the Whitaker International Fellows, a program dedicated to helping young biomedical engineers gain academic and laboratory experience outside of the United States. 
After the fellowship, Amin plans on applying to medical school to study the clinical applications of biomedical research. Her long-term goal is to become a surgeon while running her own orthopedic research lab. 
"I believe that there is a strong connection between clinicians and engineers. Without either, I do not think that the biomedical engineering field would be as prominent as it is today," Amin remarked.
Article by Sarah E. Meadows
Photo by Evan Krape