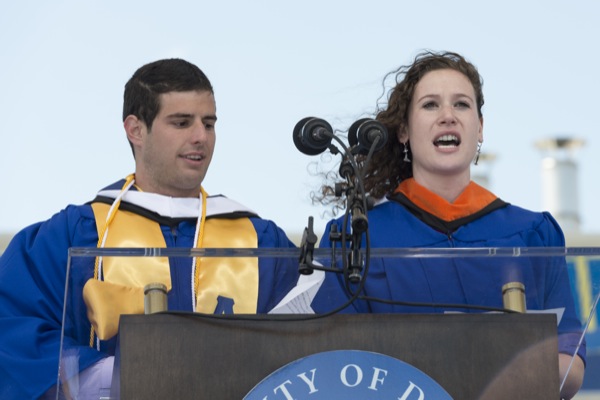 Senior class gift
Representatives of Class of 2013 report record-breaking gift campaign
3:15 p.m., May 25, 2013--Representatives of the University of Delaware's graduating Class of 2013 have announced that they have raised more than $16,000 through the senior class gift campaign.
Seniors Anna D'Alessio and Scott Scheinberg, campaign co-chairs, presented the class gift during Commencement ceremonies on Saturday morning at Delaware Stadium.
From graduates, faculty
As it neared time for the processional to open the University of Delaware Commencement ceremonies, graduating students and faculty members shared their feelings about what the event means to them.
Doctoral hooding
It was a day of triumph, cheers and collective relief as more than 160 students from 21 nations participated in the University of Delaware's Doctoral Hooding Convocation held Friday morning on The Green.
Through the course of the campaign, more than 1,070 seniors -- about 29 percent of the class -- made gifts, the largest number of participants of any senior class in UD history.
"I thank Anna and Scott, the entire Class of 2013, and the friends, families, and faculty who supported this terrific effort," UD President Patrick Harker said. "You chose to leave your mark on UD with gifts that represent your varied interests, causes and passions. And we're only too happy to celebrate the uniqueness of this class. I'm grateful you've chosen to give back to the University of Delaware so generously."
Photo by Evan Krape