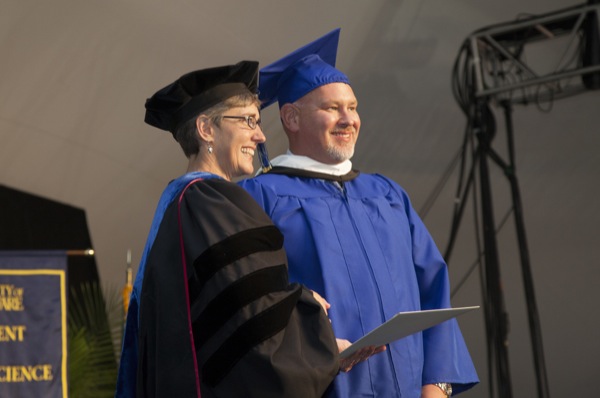 PSIR Convocation
Republican strategist Schmidt delivers Convocation address to fellow graduates
12:21 p.m., May 25, 2013--"Be a proud American, but also a global citizen," said famed political strategist and 2013 University of Delaware graduate Steve Schmidt, who delivered the Convocation address for the Department of Political Science and International Relations on Friday.
Schmidt is vice chairman for public affairs of Edelman, one of the world's largest public relations firms, and has served as a senior adviser for a number of Republican candidates, including 2008 presidential nominee John McCain. He is seen frequently on television as an analyst for NBC and MSNBC.
From graduates, faculty
As it neared time for the processional to open the University of Delaware Commencement ceremonies, graduating students and faculty members shared their feelings about what the event means to them.
Doctoral hooding
It was a day of triumph, cheers and collective relief as more than 160 students from 21 nations participated in the University of Delaware's Doctoral Hooding Convocation held Friday morning on The Green.
A political science major from 1988-93, Schmidt left UD one math class short of graduation. He completed the three-credit course earlier this year — and earned an A. 
Addressing his fellow graduates, Schmidt implored them to stay away from cynicism, stating, "Your job is to fix things, to serve."
"Public service is a worthy cause," he added. "Serve your country, your communities, your neighbors. Make it count." 
Article by Artika Casini
Photo by Ambre Alexander