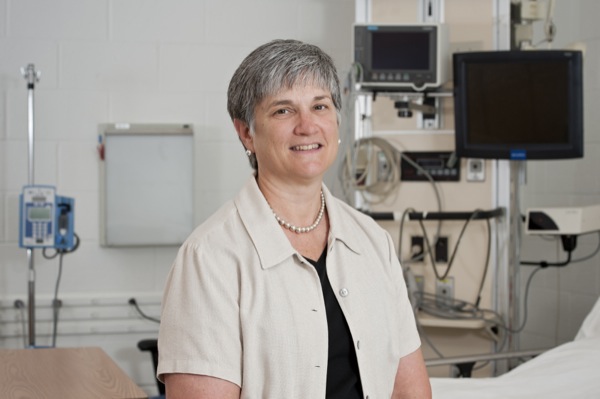 National Nurses Week
Theme is delivering quality and innovation in patient care
1:36 p.m., May 7, 2013--National Nurses Week is being marked May 6-12 so UDaily talked to Kathleen Schell, director of the University of Delaware School of Nursing, to get her perspective on the role of nurses in modern health care and how UD is preparing its students for this career path.
The questions and answers are as follows:
'Resilience Engineering'
The University of Delaware's Nii Attoh-Okine recently published a new book with Cambridge University Press, "Resilience Engineering: Models and Analysis."
Reviresco June run
UD ROTC cadets will run from New York City to Miami this month to raise awareness about veterans' affairs.
What is the theme of National Nurses Week this year?
This year's event focuses on "Delivering Quality and Innovation in Patient Care." Karen Daley, president of the American Nurses Association, recently published an article in American Nurse Today titled "Nurses are Natural Innovators." I think that's true — innovative thinking on the part of a single nurse can help an individual patient overcome a troubling symptom, while system-wide innovations can benefit millions of patients.
What is UD nursing doing in the context of this theme?
Our entire education program is aimed at preparing our graduates to deliver high-quality patient care. To this end, three of our faculty recently went to the QSEN [Quality and Safety Education for Nurses] Institute. This program addresses the challenge of preparing future nurses with the knowledge, skills, and attitudes needed to continuously improve the quality and safety of the health care systems within which they work. There is currently a national and international push for patient safety, and this program provides a platform for building our curriculum and guiding practice.
In terms of innovation, I think that if we expect to train nurses who are innovative thinkers, we have to be innovative educators. We educate our students through a clinical immersion model, in which students gain theory through classroom, field experiences, and simulation labs before being immersed in clinical practica in their senior year. Our unique Healthcare Theatre Program has enhanced our efforts by focusing on competencies such as teamwork and communication, hallmarks of this program and essential to quality care. Future health care workers will need to work in teams that include nurses, physicians, physical therapists, health coaches, dieticians, and a variety of other professionals. They need to seek the patient's perspective and provide patient-centered care. At UD, we view interprofessional training as a critical element in preparing the health care workforce of the future.
We also challenge and prepare our Ph.D. in nursing science students to take responsibility for advancing healthcare with a goal of improving individual, family and population health through the integration of theory, research, and evidence-based practice.
What are some of the other changes you see in how nurses will practice in the future?
I think we're going to see advanced practice nurses [APNs] providing more primary care. Our Nurse Managed Health Center is a good example of this model. The NMHC provides more than just episodic care for minor illnesses and injuries and treats patients holistically. The NMHC also supports our research enterprise by screening subjects for our ongoing studies and provides valuable experience for our students, including not only nurses but also students in exercise science, health promotion, and clinical laboratory science.
The health care field is also becoming more cognizant of health disparities and the need to treat diverse populations. We have internal funding as well as grants from the Robert Wood Johnson Foundation and the Health Resources and Services Administration to support education of nurses from underrepresented groups and to promote student work in underserved areas, respectively, to move toward achieving health equity. There is a heightened awareness that we need nurses who are from the cultures and background of the people for whom they care. We have to take care of everyone, and doing so requires cultural competency.
What about the bigger picture — beyond the U.S.?
UD's outstanding Study Abroad program is one way we work to help our students become global citizens. For example, in South Africa and Peru our students have provided much-needed prenatal care and delivered babies in understaffed public clinics. The faculty member who leads these programs was recently named UD's first Study Abroad Faculty Director of the Year.
We've also incorporated cultural competency into the Healthcare Theatre Program through a connection with a medical anthropologist at UD, and we'll soon be expanding our preconception peer education program to the Bahamas.
What else distinguishes UD nursing students?
I think it's critical for future nurses to be strong leaders as well as competent healthcare providers, and we have many examples of our students assuming leadership roles.  
Two of our students recently attended the National Student Nurses Association conference with posters, one on the use of social media by health care professionals and the other on the development of a statewide campaign to increase safety related to needle sticks. Two of our SNO [Student Nurses Organization] members are officers in the state association, and, at the national conference, this organization was No. 1 of all chapters for increasing membership.
Our students have also started health-related organizations on campus — for example, Lori's Hands helps elderly and chronically ill people in the community with household chores, and CALM promotes mindful living through meditation, art, nutrition, and other activities.
In addition, our students have been active in preconception peer education and programs to support pregnant teens and teen parents. Our graduate students publish, present and are leaders in their workplaces; they shape policy inside and outside their institutions. Many of our APN alumni are championing the Institute of Medicine and Robert Wood Johnson Foundation Future of Nursing recommendation that APNs be full partners, with physicians and other health professionals, in redesigning U.S. health care.
Our faculty are also very involved in community outreach, participating in smoking cessation, reproductive health, functionally focused care for individuals with Parkinson's, and cancer prevention programs throughout the state. We are also increasing knowledge of disaster management in Delaware through hands-on educational programs for public health care workers and operation of the Medical Reserve Corps. 
In short, it's exciting to celebrate National Nurses Week, but I think it's even more important to look at what our students, faculty, and alumni are doing every day — in hospitals and homeless shelters, schools and clinics, and the policy arena — to make a difference in people's lives.
About National Nurses Week
National Nurses Week is celebrated annually from May 6, also known as National Nurses Day, through May 12, the birthday of Florence Nightingale, the founder of modern nursing.
Article by Diane Kukich
Photo by Evan Krape