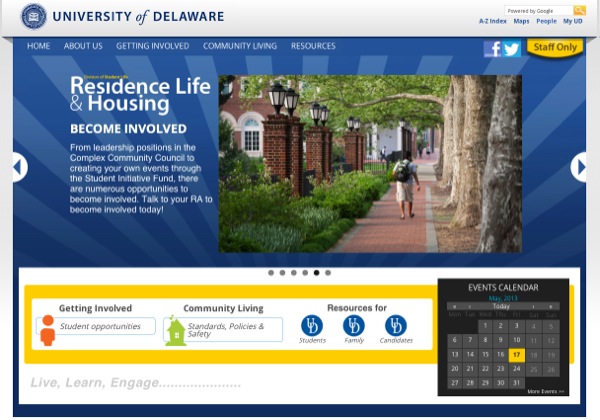 Residence Life and Housing
University units become one, focus on student engagement
11:30 a.m., May 17, 2013--The University of Delaware's Office of Residence Life and Housing Assignment Services will become one unit, Residence Life and Housing, as of July 1.  
"Bringing these two groups together is incredibly positive," said Kathleen Kerr, who will serve as director of the combined Residence Life and Housing.  
June 6: UDid It! Picnic
All UD faculty and staff members are invited to attend the annual UDid It! employee appreciation picnic, set from 11 a.m.-1:30 p.m., Monday, June 6, on The Green.
2FA protects you
If you are using two-factor authentication (2FA), even if a hacker has your password, your information is probably safe.
The merging of the units reflects best practice nationally and is possible because of the retirement of the current director of Housing Assignment Services, Linda Carey, who has been at the University for 33 years. 
"I will miss working with Linda a great deal," Kerr said.  "But I am excited about the possibilities this presents to offer even better services and residence hall experiences to students by joining our work together and simplifying processes."
Residence Life and Housing will be located on the first floor of the new Eliphalet Gilbert Hall on East Campus.
UD residence halls are home to diverse, inclusive communities with over 7,300 freshman, transfer and upper division students. The University is a student's home away from home, and living on campus is an integral part of the college experience. 
More than 200 staff members have been carefully selected and trained to work with students to create and maintain living environments that are conducive to academic, personal, and social engagement.
For more information, visit the Residence Life and Housing website.